Beginners
Writer/director Mike Mills took a piercing and steady look at family dynamics with "Thumbsucker." Now he widens and deepens his gaze with "Beginners," a tone poem of a film that commands top-notch performances from stars Ewan McGregor, Christopher Plummer, and Mélanie Laurent.
Plummer is, of course, sensational in just about anything, but in the role of Hal, a 75-year-old man just coming out of the closet following the death of his wife, he's nothing short of brilliant--the perfect complement to Mills' dignified and humanizing screenplay. Although he's diagnosed with lung cancer soon after his coming out, Hal holds on to a sense of joy, blossoming into his newly claimed identity and exploring love with a much younger lover, the enthusiastic and slightly strange Andy (Goran Visnjic).
McGregor plays Oliver, Hal's son, who has little idea what to make either of his father's newly proclaimed gay identity or his illness. Oliver is emotionally stunned by life in general, crashing through relationships and feeling boxed in professionally. (He's an artist with bigger ambitions than rendering portraits, but that's what he's known for and that's where his commissions come from.) Nonetheless, Oliver sticks by his father, measuring out his medicine and taking his dog, Arthur, for walks.
Following Hal's death, Oliver and Arthur become a little pack all of their own. Arthur can't stand to have Oliver out of his sight; Oliver is convinced that Arthur communicates with him wordlessly, with slightly rambling rambling questions and observations like, "Are we married yet?"
No, Arthur is not baiting Rick Santorum, the anti-gay former senator of "man on dog" fame. He's referring to Anna (Laurent), whom Oliver meets at a costume party. He's dressed as Sigmund Freud; she has laryngitis, which should prove an obstacle (how to court the founder of the "talking cure" when you can't talk?), but somehow a spark takes hold from the first moment, and they fall in love.
Anna is an actress, and in some ways her life is as empty, and as on hold, as Oliver's. Like Stephen Dorff's character in the Sofia Coppola film "Somewhere," she lives in hotels and finds it hard to break out of the bubble of isolation imposed on her by work, constant travel, and the barrier of fame.
Also like a Sofia Coppola film is the sense of the film's pacing being allowed to unfold at an organic pace. Movies that charge silence with as much meaning as dialogue--and the dialogue here is well-written and naturalistically delivered--can risk dipping into tedium, as the Ben Stiller film "Greenberg" did from time to time. Mills pulls it off: "Beginners" builds momentum, apprehension, and meaning out of fleeting moments as well as big observations.
The film flashes back and forth between Hal's last days and the romance between Oliver and Anna, illustrating the power that the past can have over the present. (Oliver illustrates this, too, with a cartoon in which The Past is a boulder and The Present is the crushed body beneath it.) Amplifying this are Oliver's voiceovers, which guide us to earlier times: The anti-gay 1950s with which his father had to contend; 2003, when his father died; the 1930s, when his own parents were born. "This is what the sun looked like," McGregor says of the various eras he ponders. "This is what the stars looked like. This is how people kissed."
Whether the images that accompany Oliver's narration are the scant smudges of the night sky as photographed more than half a century ago, or a hi-res peek at the heavens provided by a telescope in Earth orbit, and whether people kissing is reserved for mixed-gender couples or includes a few same-sex pairings, is less a function of time than what we do with time. In any case, time is limited: Confronting his father's denial and irrational optimism, Oliver tells him, "You have stage four cancer. There is no stage five."
The reply: "It just means you've been through three other stages."
Hal has a point, and he knows his son well enough to have a sense for how to deliver it. What matters, perhaps more than anything, is not where and when life ends--but where, and how, a person determined to allow it truly to start, whether in the twilight years, childhood, or somewhere in-between.
Beginners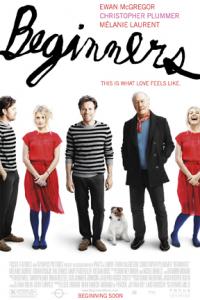 After his mother dies, Oliver (Ewan McGregor) is stunned when his father, Hal (Christopher Plummer), recently diagnosed with terminal cancer, comes out of the closet. When Hal passes away a few years later, Oliver grows depressed, struggling with his failing career as an artist while constantly remembering his childhood and time spent with his dad. Oliver's loneliness is eased when he meets actress Anna (Mélanie Laurent), but their relationship is threatened by their mutual fear of commitment.
Info
Runtime :: 105 mins
Release Date :: Jun 03, 2011
Language :: Silent
Country :: United States

Cast
Oliver :: Ewan McGregor
Hal :: Christopher Plummer
Anna :: Mélanie Laurent
Andy :: Goran Visnjic
Elliot :: Kai Lennox
Georgia :: Mary Page Keller
Young Oliver :: Keegan Boos

Crew
Director :: Mike Mills
Screenwriter :: Mike Mills
Producer :: Leslie Urdang
Producer :: Dean Vanech
Producer :: Miranda de Pencier
Producer :: Jay Van Hoy
Producer :: Lars Knudsen
Executive Producer :: Joan Scheckel
Cinematographer :: Kasper Tuxen
Film Editor :: Olivier Coutte
Original Music :: Roger Neill
Original Music :: David Palmer
Original Music :: Brian Reitzell
Production Design :: Shane Valentino
Set Decoration :: Coryander Friend
Costume Designer :: Jennifer Johnson
Casting :: Courtney Bright
Casting :: Nicole Daniels

Kilian Melloy serves as EDGE Media Network's Assistant Arts Editor. He also reviews theater for WBUR. His professional memberships include the National Lesbian & Gay Journalists Association, the Boston Online Film Critics Association, The Gay and Lesbian Entertainment Critics Association, and the Boston Theater Critics Association's Elliot Norton Awards Committee.
Comments on Facebook