Gay San Francisco: The Latest
San Francisco, CA
LGBT groups issued statements Thursday calling on Los Angeles County authorities to investigate the death of a second black man at the West Hollywood home of gay Democratic donor Ed Buck.
The Oscars race may have gotten a little clearer Saturday night as the race-themed road trip drama "Green Book" drove off with the top honor at the Producers Guild Awards, winning out over presumed front-runners like "Roma" and ''A Star Is Born."
Justin Timberlake has pulled some sunshine from his pocket for the patients at a Texas children's hospital.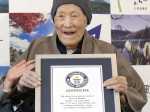 The world's oldest man has died at his home — a hot springs inn — in northern Japan at the age of 113.
A diocese in Kentucky apologized Saturday after videos emerged showing students from a Catholic boys' high school mocking Native Americans outside the Lincoln Memorial after a rally in Washington.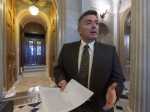 Republican Sen. Cory Gardner helped mastermind the GOP's midterm strategy of pushing Senate candidates closer to President Donald Trump.
In a bid to break the shutdown stalemate, President Donald Trump offered to extend temporary protections for young people brought to the U.S. illegally as children and those fleeing disaster zones in exchange for his long-promised border wall.
While the Trump administration decides whether to adopt a controversial policy that could jeopardize the legal status of immigrants who use public programs like Medicaid, doctors and clinics are torn between informing patients about the potential risks.
The first tangible signs of movement may be emerging in the impasse that has shut down the government for weeks.
Time Magazine offered Lily Tomlin its cover with the tag line, "Yep, I'm Gay" in 1975. She refused.
Tens of thousands of embryos are stuck in limbo in fertility clinics, leftovers from pregnancy attempts and broken dreams of parenthood.
Advocates for gender equality are reckoning with what one called a "wonderful challenge" — four or more women running for president in 2020.
San Francisco, CA
Susan Werner is waxing lyrical about Carmen Cusack, the Tony-nominated singer-actress (Bright Star) with whom she'll share a sublime Bay Area Cabaret double-bill at the Venetian Room this Sunday afternoon.
Actor Anthony Rapp said he came forward with sexual misconduct allegations against Kevin Spacey because he feared assaults could "keep happening" if he said nothing.
The European Union insisted Friday that agriculture be kept out of the EU-U.S. trade negotiations, despite Washington's wishes to include the vast sector, and said any overall deal will be limited in scope.

Two shark researchers who came face-to-face with what could be one of the largest great whites ever recorded are using their encounter as an opportunity to push for legislation that would protect sharks in Hawaii.
Challenging the Trump administration on a top consumer issue, leading congressional liberals are proposing legislation that would radically reduce U.S. prescription drug bills by linking prices to lower costs in other countries.
Some new 2019 vehicles offer shoppers a way to get both all-wheel drive and great fuel economy.
A hamburger a week, but no more — that's about as much red meat people should eat to do what's best for their health and the planet, according to a report seeking to overhaul the world's diet.
The Japan National Tourism Organization announced that more than 30 million overseas travelers visited Japan in 2018, an all-time record.
San Francisco, CA
Follow a popular New Year's resolution into 2019; sweat off a bit of winter weight on the dance floor, or stack it on at a food truck outside the club. No judgment.

The 20th edition of the GLAM Awards celebrated the best of NYC nightlife. Hosted by Ru Paul's Drag Race's Bob The Drag Queen and Peppermint, this was a night full of amazing performances, camaraderie and so much creativity!