Gay San Francisco: The Latest
"Gay Chorus Deep South," a 2019 documentary about a men's choir touring the American Deep South, has been bought by MTV Documentary Films. The studio, run by former HBO exec Sheila Nevins, hopes to organize a theatrical release.
Two Pulse nightclub shooting survivors organized a march last Saturday to connect so-called "overcomers" of homosexuality. This takes place shortly after a petition has gained thousands of signatures to ban conversion therapy.
"Schitt's Creek" is unfortunately coming to an end but Pop TV, the network that airs the beloved comedy in the U.S., announced the Season 6 airdate.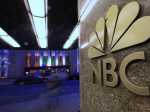 Comcast's NBCUniversal said Tuesday that its upcoming streaming service will be called Peacock, in an homage to NBC's logo. It will become the home for some of the company's most popular shows, including "Parks and Recreation" and "The Office."
Cokie Roberts, the daughter of politicians who grew up to cover the family business in Washington for ABC News and NPR over several decades, died Tuesday in Washington of complications from breast cancer.
A forum on LGBTQ issues featuring the presidential contenders for next year's elections is set to be hosted by "Pose" star Angelica Ross.
"Jeopardy!" host Alex Trebek says he's had a setback in his battle with pancreatic cancer and is undergoing chemotherapy again.
The latest season of "Dancing with the Stars" kicked off Monday night and the world got to witness President Donald Trump's former press sectary Sean Spicer dance the salsa.
He's openly gay. He's married. And he's making history by running for the governorship of the state that gave us Mike Pence.
Being a size 2 came in handy as Hecht was deciding on just the right red carpet look for her big night Sunday at the creative arts Emmys, to air Saturday on FX ahead of the main slate. She didn't win, but she had a ball picking out a dress.
Right-wing provocateur Milo Yiannopoulos has a whole new reason to cry: The former Breitbart contributor and darling of the right now finds himself denied entry to a furry convention.
San Francisco, CA
On Friday September 20 the incomparable legendary Charo returns to San Francisco for an evening of music and 'cuchi-cuchi' at the Herbst Theatre.
With more than 60 dates over eight months, Musgraves as been doing one hell of a victory lap by way of a sprawling North American tour, having just brought her "Oh, What a World Tour" back to Boston for the second time this year.

As Democrats controlling the House unveil a stopgap, government-wide spending bill to keep the lights on and pay the troops, there's scant evidence that power sharing in the Capitol will produce further legislative accomplishments anytime soon.
The key to carbon dioxide's strong influence on climate is its ability to absorb heat emitted from our planet's surface, keeping it from escaping out to space.

It's not too early to think about your holiday travel. Now is the time to save when booking flights.
Volkswagen has agreed to pay up to 127 million Australian dollars ($87 million) to settle an Australian class action stemming from the 2015 diesel emissions scandal, the German automaker and a lawyer said Monday.
A small but important exhibit at the Metropolitan Museum of Art explores a little-known facet of architect Frank Lloyd Wright's creations: his line of wallpapers, printed and woven textiles, and other home goods designed for the public.
Some operators are cashing in on the CBD craze by substituting cheap and illegal synthetic marijuana for natural CBD in vapes and edibles such as gummy bears, an Associated Press investigation has found.
Hotels are more than a place to stay while on vacation. They are also critical for destination disaster relief and recovery.

The House of Blues may seem like too small a venue to have a wall of death to open up, but when the crowd respects a band as much as Wednesday's crowd did Babymetal, anything is possible. Read our EDGE review of the show, accompanied by Avatar, here.