1 thru 10 of 4147 Stories
The Trump administration is defending its get-tough approach to trade against widespread attacks from America's trading partners while at the same time arguing that many countries must increase government spending to boost global growth.
This scam allows criminals to hijack your cell phone number. Once they have your number, the bad guys can clean out your financial accounts, confiscate your email, delete your data and take over your social media profiles.
Mining companies filing for lower royalty rates wouldn't have to describe exactly where the minerals would be mined or how much they've mined recently.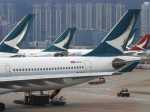 Hong Kong airline Cathay Pacific says passenger traffic slumped last month on plummeting demand from mainland Chinese travelers.
The Senate voted Thursday to sustain President Donald Trump's veto of Democratic-sponsored legislation reversing his raid of military base project money to pay for the U.S.-Mexico border wall.
The leaders of the 189-nation International Monetary Fund and its sister organization, the World Bank, are laying out their visions for the future, hoping to achieve a world with less extreme poverty and more economic growth.
China's economic growth sank to a 26-year low in the latest quarter amid pressure from a trade war with Washington, adding to a deepening slump that is weighing on global growth.
The tariffs the Trump administration is about to impose on wine, liquor and cheese from Europe couldn't come at a worse time for small retailers.
Nearly a million children could lose their automatic eligibility for free school lunches under a Trump administration proposal that would reduce the number of people who get food stamps.
China appealed to Washington for a quick end to their trade war but gave no indication Thursday what additional steps Beijing might want before carrying out what President Donald Trump says is a promise to buy up to $50 billion of American farm goods.
1 thru 10 of 4147 Stories