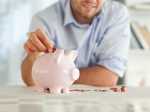 Retirement experts frequently recommend working longer if you haven't saved enough. But you may not realize just how powerful a little extra work can be.
Paperwork is one of the easiest areas to let a mess build and one of the more challenging categories to tackle. That's in part because it's difficult to make a lot of decisions. And the stakes feel higher when it comes to financial documents.
Some research suggests rising sea levels and flooding brought by global warming are harming coastal property values. But by how much is an open question.
The Trump administration wants to shift money for Pell Grants for college education to fund new spending, including a $1.6 billion bump for NASA to return American astronauts to the moon by 2024.
The White House's top economic adviser has acknowledged that U.S. consumers and businesses pay the tariffs that the Trump administration has imposed on billions of dollars of Chinese goods.
President Donald Trump cast a fog of misinformation over the U.S. trade dispute with China, floating inaccurate numbers and skewed economic theories as big tariffs kicked in on Chinese goods.
Honduras' second biggest city is where caravan after caravan of migrants have formed in recent months to head north to Mexico and on toward the United States, fleeing violence, poverty, corruption and chaos.
Washington is set to become the first state to enter the private health insurance market with a universally available public option.
A German con artist who was sentenced to four to 12 years in prison for swindling banks, hotels and wealthy New Yorkers says she's not sorry for anything she did.
The Cuban government announced Friday that it is launching widespread rationing of chicken, eggs, rice, beans, soap and other basic products in the face of a grave economic crisis.