U.S. employers added a modest 136,000 jobs in September, enough to help lower the unemployment rate to a new five-decade low of 3.5%.
Low-cost fashion retailer Hennes & Mauritz AB says its third-quarter profit jumped 25% to 5 billion kronor on strong summer sales as the Swedish group's recovery is well underway after a strategy shift.
Trump essentially argues that the Fed's rate hikes last year pushed up the value of the dollar, which makes U.S. goods more expensive overseas. His argument is a distortion that attempts to downplay the negative consequences from escalati
The European Union made a last-ditch appeal Wednesday to U.S. President Donald Trump to avoid any tit-for-tat tariff war as the global trade governing body prepares to issue a ruling that could allow him to impose billions in duties on EU produce.
A group of San Francisco neighbors said they had to do something to make their street safe. Their answer? Some giant rocks.
For years, teens flocked to Forever 21's massive stores at the nation's malls for its speedy take on fashion, like its $5 shimmery halter tops and $25 dresses.
The problems around housing costs represent the seeds of a political debate likely to grow as high rents and home prices spread from expensive cities such as Los Angeles and New York to once-affordable pockets like Las Vegas and Reno.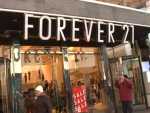 Low-price fashion chain Forever 21, a once-hot destination for teen shoppers that fell victim to its own rapid expansion and changing consumer tastes, has filed for Chapter 11 bankruptcy protection.
The gig economy, the temptations of social media and the high expectations millennials have of themselves contribute to a trend of burnout, behavioral finance experts say.
South Sudan has launched mobile money, the ability to send and receive funds by phone, in an attempt to boost the economy after a five-year civil war killed almost 400,000 people.