Top Story
Is Donald Trump good for the LGBTQ community? Log Cabin Republicans think so.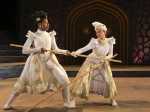 San Francisco, CA
Cal Shakes' new world premiere "House of Joy" wants to be both a swashbuckling adventure story of daring escapes, exotic locales, and court intrigues, and also an impassioned drama confronting the gravity of real human evil.
Tori Kelly's new album "Inspired by True Events" is very much an inspirational and a welcome blessing to the pop music spectrum; it shows significant promise and a skillfull use of narrative and lyrics that aspire to new heights.
Singer Elton John says he's "deeply distressed" by media accounts that criticized the Duke and Duchess of Sussex for taking a private jet to go on vacation despite the flight's carbon impact of the planet.
Carrie Underwood, who has hosted the Country Music Association Awards since 2008 with Brad Paisley, is losing her partner-in-crime.
With a simple "We do," Dwayne "The Rock" Johnson announced his wedding to his longtime girlfriend on Instagram.