1 thru 10 of 7745 Stories
Music artist and actress Queen Latifah is among the honorees being recognized by Harvard University for their contributions to black history and culture.
Actress Alexis Bledel has been bookish and sweet on "Gilmore Girls" and "Sisterhood of the Traveling Pants." But the actress herself is now officially dangerous.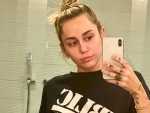 Miley Cyrus is being hit by a wave of backlash after she took to her Instagram Live Sunday and told fans that they "don't have to be gay" because "there are good men out there."
Chris Hemsworth's latest workout video is...a steamy one!
Oscar winner Jennifer Lawrence got married over the weekend in Rhode Island during a ceremony and reception studded with Hollywood stars.
Bill Macy, the character actor whose hangdog expression was a perfect match for his role as the long-suffering foil to Bea Arthur's unyielding feminist on the daring 1970s sitcom "Maude," has died. He was 97.
"Captain America" actor Chris Evans returned to his native Massachusetts this weekend to help dedicate the new home of a youth theater company where as a youngster he honed his acting skills.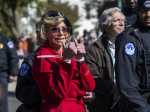 Inspired by the climate activism of a Swedish teenager, Jane Fonda said Friday that she is returning to civil disobedience nearly a half-century after she was last arrested at a protest.
During her Las Vegas show Thursday night, Lady Gaga invited a fan onstage who picked her up and lost balance. Both plunged to the floor as a result.
Adam Lambert, who rose on the music scene as the runner-up on "America Idol" in 2009, says he's happy to see more mainstream LGBTQ artists find major success.
1 thru 10 of 7745 Stories