UK Singer Duncan James 'Proud to Be Gay'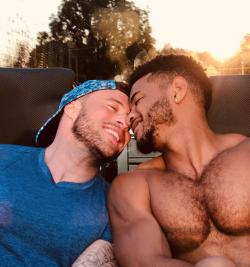 Duncan James, of the boy band Blue fame, recently said that his boyfriend makes him feel proud to be gay, after many years of insecurity over his sexuality.

The singer, 41, posted several steamy pics with his Brazilian boyfriend Rodrigo Reis to Instagram and Twitter, and said he received an "amazing response, comments and love from people."

In his Twitter post he said: "I didn't identify as a gay man for many years because of my own issues with coming out, but finally im happy in my skin and this guy next 2 me makes me proud 2 be gay."





According to Yahoo! Lifestyle, James "first revealed that he was bisexual in 2009 and then eventually came out as gay in 2012, speaking to his bandmate Simon Webbe about it."

He recalled the emotional story of coming out to his mom later to Yahoo as well, saying:

"I raided my mini bar, drank a load of drinks, then knocked on her door. I was sobbing and I sat her down and said: 'Remember my friend Pete? I've been in love with him. He's been my secret boyfriend.'"

His mother then replied: "'You're gay? I thought you were going to say you had cancer.'"





Reis is Brazilian living in Belgium, according to Yahoo!, and the couple were recently spotted spending time together in Amsterdam at the Tropikali Festival.
Comments on Facebook