Red Joan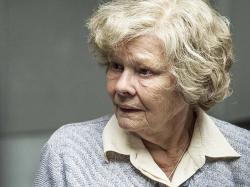 "Red Joan" is, we learn from a title card at the film's end, inspired by the true story of Melita Norwood, a secretary with the British scientific group that researched nuclear weapons and who, in 1999, was revealed as a long-time Soviet spy. Because of her position as the secretary to the director of the British efforts in nuclear weapons research, Norwood has access to secret information that, once passed along to the Soviets, greatly accelerated Russian efforts to become a nuclear power.

The film version takes substantial liberties with the story. For one, Norwood is now called Joan Stanley; she's played by Dame Judith Dench in a '90s-ish setting, but the bulk of the film is made up of flashbacks that tell her story as it took place decades earlier. It's in the well-produced, and beautifully filmed 1930s and 40s sections that we see who Joan is and who she became. (Joan in flashback is played by Sophie Cookson, who ably shares the role with Dench.)

The first thing to note is that, in this reimagining of the story, Joan is a physicist. She's brilliant, tough, and a little unsure about how to assert herself in a field dominated by men. (When a Canadian colleague offers to introduce her to the marvels of the "tumble dryer," it takes another male colleague to pry him off.) She ends up mixing with communists during her university days at Cambridge, but - and this is a crucial point - does that mean she ever actually gave them any intel?

Half a century later, Joan's arrested under suspicion of having had dealings with Russia, and hauled in for interrogation by MI5. The British government has her name now that a senior government official named William Mitchell (Freddie Gaminara) has died and his secret career as a spy has come to light. William was one of Joan's old university chums; MI5 are keen to know more about their friendship and whether it entailed the sharing of any atomic secrets.

The film works hard to maintain suspense around the issue of Joan's innocence or guilt, so much so that the gradual revelation of Joan's secrets - some of which alienate her from her son Nick (Ben Miles) - and the pressures she faces displace any cloak-and-dagger tropes. Alas, the tension boils down to matters of the heart. After making friends with a wild child named Sonya (Tereza Srbova), the young Joan starts attending "film nights" that consist of communist propaganda. The ringleader is a dashing, charismatic fellow named Leo (Tom Hughes). He and Joan fall in love. Will the young woman betray her nation for the man who's obviously using her (and, less obviously, might genuinely love her back)?

The film spends too much time in this tired territory, though it does eventually pull away from it. "I loved him; he loved me too, I think," Joan tells a new paramour years later, thinking back on Leo and not revealing quite everything about him. The new man in her life — years after college — is a nuclear physicist named Max, who is in charge of the British effort to develop the atom bomb. (#MeToo alert: Max is also her boss.) British progress on the bomb is slow, now that the Americans establish the Manhattan Project and become unwilling to share their scientific insights. Joan herself helps fill in the gaps as the British scientists struggle to work out just how to build a nuclear weapon. ("Centrifuge!" Joan exclaims during one session of brainstorming.)

After having her heart mauled by Leo — and Sonya, too, who remains a lively and glamorous presence in Joan's life — and having her conscience wracked by the American deployment of two A-bombs on Hiroshima and Nagasaki, Joan is much more amenable to the advances of her old friend William, now a fast-rising government worker and a spy. But does that mean she will surrender any secrets? The film tries to follow along as Joan enters a complicated moral maze, but the picture that finally emerges is muddy and unconvincing, and if the '40s heartaches and romantic swoonings are cliched, at least they feel convincingly passionate. As matters progress in the present, they increasingly resort to melodrama, and the film suffers for it.

Writer Lindsay Shapiro — adapting the novel by Jennie Rooney — finds the story's dramatic impetus through great loves and small betrayals that lead to larger compromises. Regrettably, though, it all leads up to an unearned, less-than-credible resolution that's built on the flimsiest of narrative scaffoldings.

You might mentally file this movie alongside others of a certain theme and setting: "Another Country," "The Imitation Game," and perhaps "Fat Man and Little Boy." This is a different take on similar material. Whether it lives up to those other films is, in part, a matter of taste, but the film's hollow center only grows more obvious as the running time — which tops out at under two hours — proceeds. Thankfully, Dench is as compelling as ever, and Cookson more than holds up her end; between the two of them, they give the story some depth and dimensionality, and almost bring the movie to life.
Red Joan
Academic overachievers Amy and Molly thought keeping their noses to the grindstone gave them a leg up on their high school peers. But on the eve of graduation, the best friends suddenly realize that they may have missed out on the special moments of their teenage years. Determined to make up for lost time, the girls decide to cram four years of not-to-be missed fun into one night -- a chaotic adventure that no amount of book smarts could prepare them for.
Info
Runtime :: 110 mins
Release Date :: Apr 19, 2019
Language :: Silent
Country :: United Kingdom

Cast
Joan :: Judi Dench
Young Joan :: Sophie Cookson
Leo :: Tom Hughes
Sonya :: Tereza Srbova
Detective Hughes :: Ciaran Owens
Patrick Adams :: Laurence Spellman
Max :: Stephen Moore
Peter Kierl :: Stephen Boxer

Crew
Director :: Trevor Nunn
Screenwriter :: Lindsay Shapero
Producer :: David Parfitt
Executive Producer :: Ivan Mactaggart
Executive Producer :: Tim Haslam
Executive Producer :: Jan Pace
Executive Producer :: Karl Sydow
Cinematographer :: Zac Nicholson
Film Editor :: Kristina Hetherington

Kilian Melloy serves as EDGE Media Network's Assistant Arts Editor. He also reviews theater for WBUR. His professional memberships include the National Lesbian & Gay Journalists Association, the Boston Online Film Critics Association, The Gay and Lesbian Entertainment Critics Association, and the Boston Theater Critics Association's Elliot Norton Awards Committee.
Comments on Facebook