Making Montgomery Clift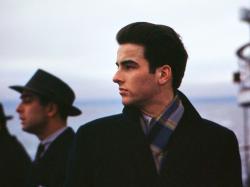 Robert Clift, together with co-director Hillary Demmon, examines the myths around his uncle Monty - better known as the actor Montgomery Clift.

Montgomery Clift was part of a new generation of male actors, like James Dean and Marlon Brando, who found depth and complexity in the characters he played. It was an exciting innovation that men on screen could have feelings, and audiences responded. Clift got started in film in his late 20s (after having worked in theater since the age of 14), but his late arrival didn't stop his career from taking off like a shot.

What did hobble him, though, was his sexuality. Clift had relationships with women - or so a couple of his old friends, interviewed here, opine - but he's remembered as a closeted homosexual whose forbidden desires triggered self-destructive behaviors that ultimately consumed him.

But what if that narrative is completely wrong? What if the public memory of Montgomery Clift is nothing more than the result of prejudice - that is, a judgment rendered based on the preconceived notions of the public at large? In Clift's time, the widespread idea was that gays were unhappy, mentally ill, and maybe even psychotic. It's rather like the contemporary view in some circles today that gay teens are suicidal because they are gay - a pattern of thinking that reinforces its own biases and glosses over the real problems. For today's gay teens, familial and social rejection are the factors that drive some youth toward suicide. So what drove Montgomery Clift to substance abuse and a career that began brilliantly but then seemed to flame out?

Robert Clift has a trove of material about his uncle to explore, thanks mostly to his father, Brooks, who obsessively documented, recorded, and archived everything in his life, including materials regarding his famous brother - clippings, tape-recorded conversations, movie memorabilia... and two notorious biographies, one of which Brooks himself was unwittingly complicit in helping bring into being.

Those biographies, riddled as they are with errors and colored by unthinking prejudices, portray Montgomery Clift as tormented, perverse, and twisted into an emotional wreck by a mother who wouldn't allow him to be a real man. (As noted above, the times Clift lived in dictated how the public was prepared to view him, and the long-held psychobabble about controlling mothers and remote fathers - still recited now by practitioners of so-called "conversion therapy" - was fashionable and false even half a century ago and more.)

But most of the corrections Brooks offered to the author of the latter of those two biographies - a writer named Patricia Bosworth, who is also interviewed in the film and whose ties to the family run much deeper than the book she wrote - never made it into even the later editions of the book. Even as Brooks was safeguarding a veritable library of evidence as to who Montgomery Clift really was, Bosworth's book - facilitated by Brooks, whose confidence in Bosworth led him to encourage family members to speak with her - painted a familiar, expected, and misleading portrait of its subject.

So just who was Robert Clift's uncle Monty? Robert sorts through the boxes, books, and reels of tapes to find out - and uncovers a man of high artistic passions, a man of deep integrity, and a man whose exuberant embrace of life belies the idea that he was a stereotypically unhappy homosexual.

Robert Clift's film is a family affair; he interviews his mother and brothers, and his late father looms large over the story. There's a sense of intimacy about the mood Clift creates and the narration he provides. But the film also achieves a larger reach and a greater meaning about the stories we tell and, more importantly, the stories we're ready and able to hear.
Kilian Melloy serves as EDGE Media Network's Assistant Arts Editor. He also reviews theater for WBUR. His professional memberships include the National Lesbian & Gay Journalists Association, the Boston Online Film Critics Association, The Gay and Lesbian Entertainment Critics Association, and the Boston Theater Critics Association's Elliot Norton Awards Committee.
This story is part of our special report titled "Frameline 2019." Want to read more? Here's the full list.
Comments on Facebook