School's Out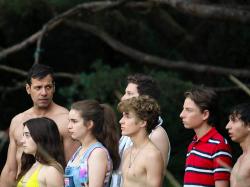 Sébastien Marnier's film adaptation of Christophe Dufosse's novel "L'Heure de la sortie" — or, in English, "School's Out" - is a thriller that unfolds in a prestigious school and among an elite cadre of gifted students. The mystery revolves around how the students' previous teacher came to throw himself out a window... and whether the youths might not have something similarly sinister in mind for tier new instructor, Pierre (Laurant Lafitte).

Only six students out of the class are particularly worrisome to Pierre, and out of those six, Apolline (Luàna Bajrami) and Dmitri (Victor Bonnel) seem the most sober, the most humorless, and the most arrogant — not to mention, they appear to be the leaders. When Pierre notices that one of the kids, Brice (Thomas Guy), seems to be the object of bullying both in and out of school, he begins looking more closely at the group's inner dynamics, as well as the way they fit in... or don't... with their fellow students. Not that his attention is welcome; when he intervenes in a bullying incident involving one of the elite students, a Jewish boy named David (Leopold Buchsbaum), the victim and his friends seem less than pleased. It's almost as if the half dozen overachievers are actively trying to provoke violent pushback with their coldness and superior attitudes. But why?

Noticing the kids riding their bikes in a pack one weekend, Pierre follows them to a quarry. There, he witnesses disturbing conduct among the group — and discovers a cache of home-made DVDs that record the musings of the students, along with video clips of animal abuses, oil spills, pollution, and other horrors. Concerned that the elite students are about to commit a school shooting or some other atrocity, Pierre attempts to talk to his colleagues, but none of them take his concerns seriously. (It's some consolation, at least, that one fellow teacher — Steve [Gringe] — returns Pierre's interest, leaving the music instructor, Catherine [Emmanuelle Bercot ] a little disappointed.)

Pierre's worries grow when he begins receiving harassing phone calls, his power cuts out, his faucets begin to discharge undrinkable sludge, and — worst of all — his laptop disappears, along with his unfinished thesis. Are the kids trying to drive him to suicide, like their former teacher? Or are they planning a more active role in Pierre's demise?

The film shouts down creepy byways of all sorts and allows chilling echoes to play out. (Apolline suggests that the kids might frame him for inappropriate interest in Dmitri, for instance.) But when the truth is revealed, it's both more logical and more distressing than any mere tale of youthful psychopathy: It's a wake-up call to the generations currently in power that one day they might well be held to account for their sins.
Kilian Melloy serves as EDGE Media Network's Assistant Arts Editor. He also reviews theater for WBUR. His professional memberships include the National Lesbian & Gay Journalists Association, the Boston Online Film Critics Association, The Gay and Lesbian Entertainment Critics Association, and the Boston Theater Critics Association's Elliot Norton Awards Committee.
This story is part of our special report titled "Frameline 2019." Want to read more? Here's the full list.
Comments on Facebook