David Crosby: Remember My Name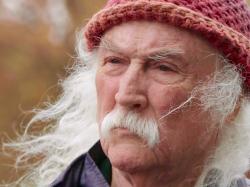 Legendary musician David Crosby has had it all: Drug addiction, prison sentence, diabetes, a girlfriend killed by car crash, heart surgery, being fired by his superstar band (The Byrds), a father who never said "I love you," liver transplant, depression, being told off and cut off by the bandmates he considered brothers when they were Crosby, Stills, Nash, and Young. And good times, too. In the moving documentary "Remember My Name," he examines his past and present, warts and all, and takes us with him down rocky roads of Memory Lane. Owning mistakes, sighing regrets, expressing gratitude, facing/embracing life in his late 70s, he's bone honest, fascinating, funny, and inspirational.

The camera lingers on Crosby's weathered face as he faces troubling truths, his demons, destiny, and defiant determination to, damn it all, get the most out of life now, in his reactivated career. We feel his pain, soul, survivor instincts, and, yes, joys. It's bittersweet, it's compelling, it's ultimately life-affirming. There's archival footage (Woodstock, interviews with former colleagues, tours), visits to hallowed grounds of music history - Laurel Canyon: A house where a band first bonded (CSN&Y) - and love bloomed with Joni Mitchell.

Fury feels fresh, decades later, discussing deaths and protests in the 1960s. Old footage seesaws with new, but never feels rushed, redundant, or manipulative. Episodes don't overstay their welcome. Some may wish for more generous segments of songs or to linger on the sightseeing tour of the wheres of "the way we were," but this is not a concert film or autobiographical chronology. And, sadly, some firsthand co-witnesses have had their voices stilled or weren't about to cooperate. Time marched on and continues to do so. The long hair and trademark handlebar mustache are now shown white.

This rock god has a rock in his longtime marriage, his wife admitting her worries of him dying and not knowing how she'll go on. He "must" go on the road; making music is David Crosby's joy and salvation - his lifeblood. And, oh! That glorious music! Smatterings of hits and heavenly harmonies (re)fuel fandom for the classics and new stuff. We're privileged to have him with us and to get to know him through this thoughtful, powerful film.
ROB LESTER returns to Edge in 2019 after several years of being otherwise occupied writing and directing musical theatre shows, working as a dramaturg, arts consultant, and contributing articles and reviews to various outlets. His long-running "Sound Advice" column covering cast albums and vocal CDs has been running regularly at
www.TalkinBroadway.com
for almost 15 years.
Comments on Facebook