Watch: Randy Rainbow Mocks Trump (et al) in Parody of Jonas Brothers' 'Sucker'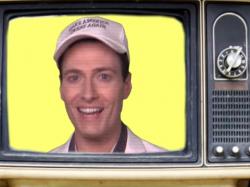 Randy Rainbow, the prolific parody artist and comedian, has been attacking Trump in his songs for years now, and his newest takes aim at his supporters. The tune is a reworking of the Jonas Brothers' summer hit "Sucker," called "Suckers."

One highlight of the video is a segment in which Rainbow compares two clips of Senator Lindsay Graham. One, from 2015, shows Graham criticizing Trump for his rhetoric, and is compared with the second, a 2019 clip of Graham commending and defending Trump's actions as President.

Watch the full video below from his YouTube channel, Randy Rainbow.


Comments on Facebook