1 thru 10 of 4579 Stories
Netflix is sharing the first official trailer for the new installment of "Armistead Maupin's Tales of the City."
Alabama Public Television has chosen not to air an episode of the PBS children's show "Arthur" because it included a same-sex wedding.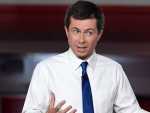 Whether to appear on the nation's top-rated cable news channel has become an unlikely marker for the divergent strategies top Democrats vying for the White House are employing.
It may be a few more months before the third installment of Netflix's highly anticipated "Stranger Things" returns but the streaming shared a new teaser for upcoming season.
Three new teaser clips for "Pose" Season 2 are now online.
Paul Rudd hosted the season finale of "Saturday Night Live" Saturday night and in one skit appeared as 2020 Democratic presidential hopeful Pete Buttigieg.
Winter has come and winter has gone, the last of the heads have been lopped off and the last of the dragon fire has been spit as "Game of Thrones" aired its 73rd and final episode Sunday night
It's been a minute since a new fashion design competition has occurred. Enter: "Next in Fashion," soon to come on Netflix.
Is it any surprise that there is drama on the set of the "Beverly Hills, 90210" reboot?
A number of controversies have put network television on the defensive as they look forward to next season.
1 thru 10 of 4579 Stories