Watch: 'Naked and Afraid' Features First Trans Contestant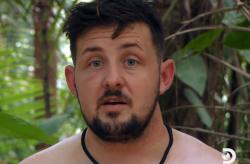 Ten seasons in, the Discovery Channel show "Naked and Afraid" has featured its first transgender cast member, Quince Mountain.
Mountain, a National Guard vet and arctic dog sledder, competed in the reality show in which contestants spend 21 days in the wild with a partner to create shelter and survive without supplies or clothing.
Mountain and his wife, Blair Braverman, competed on the show, but not together. Mountain's episode was shot near La Ceiba, a city in northern Honduras. His partner was police officer Teresa Owens from Satsuma, Fla.
His wife Blair indicated her support of her husband to the Reno Gazette Journal: "I think (Mountain) being out there doing something that is tremendously difficult and happening to be trans while doing it is an incredibly public statement that he is not going to let public policy dictate his life and what people in the trans community can and can't do," Braverman said. "Sometimes even I can forget how powerful it is to live visibly."
On his Twitter, Mountain explained why he wanted to be on the show, citing the desire to play an active and non-stereotypical role in public as a trans person:
"I wasn't drawn to appearing on @NakedAndAfraid despite the nudity requirement--it was an alluring feature. I felt, as a trans guy, that stripping down would be a relief, a way to get it over with & just finally say the unsayable, widely and publicly," one tweet in the thread reads.
He went on to say:
"To be an openly trans person doing something beyond transitioning, dating, losing a job, or being harassed in a bathroom—to be in the public square, able to act rather than simply being acted upon—It's a big deal,"
"Naked and Afraid" showrunner Mathilde Bittner told the Gazette Journal that Mountain's survival experience and charisma made him a great candidate for the show, and that she was happy he was open to discussing his transgender identity, though he was given the option to keep it private if he wanted.
"At the end of the day the people who make it through this challenge are the ones who have the will and the skills," Bittner said. "It really doesn't matter if you are gay or straight or transgendered. If this is something you want to take on, bring it on."
Watch a clip from Quince Mountain's episode of "Naked and Afraid," which aired June 16 below:
Comments on Facebook