17 Border Crossings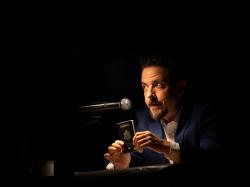 When "17 Border Crossings," a one-man show now playing at the New York Theatre Workshop, begins, you might think for a moment that you wandered into the wrong place. The star, Thaddeus Phillips, starts by launching into the rousing St. Crispin's Day speech from Shakespeare's "Henry V." But then the ear catches on the word "passport" in the speech, as Henry is telling his soldiers that he'll give them safe passage home if they don't want to fight with him.

Stopping himself mid-speech, Phillips explains that the concept of passports began with King Henry and evolved from large rolls of parchment down to the compact and iconic booklet we know now. Following a charming little tour through the document itself, Phillips then proceeds to take us on an adventure across borders around the globe.

By train, plane, ferry, and bus; through tunnels, across seas and bridges, he escorts us along through vignettes that capture unique border crossings (most of which are based on Phillips' own experiences). Some of the vignettes are rather short and simple musings, like a cleverly staged chairlift ride from Germany to Austria. Others are more elaborate, like a botched trip from Italy to Croatia and back via ferry.

Phillips, who also did the (very spare) scenic design for "17 Border Crossings," is an inventive storyteller. Under the direction of Tatiana Mallarino, and with valuable assistance from lighting designer David Todaro and sound designer Robert Kaplowitz, Phillips counts on his voice and our imaginations to conjure images of fast food smuggled through tunnels in Gaza, moto-taxi rides in South America, and the chaos unfolding on a bridge into Venezuela.

We are also introduced to fascinating characters like a mysterious man on the train to Serbia who throws his luggage out the window of the train to someone waiting below, and a gregarious Croatian who takes Phillips to experience the local nightlife. Given the play's subject, there are also many interesting border functionaries, such as a polite, older Jordanian checking passports or a Cuban man considering Phillips' request to not stamp his passport (which could result in him being fined or jailed).

The border that we hear about so often these days, the US-Mexico border, also makes an appearance in the final vignettes, in which Phillips joins the many Americans (a caravan of its own sort) who travel to Mexico for affordable dental work. There he ends up meeting a man separated from his family in America due to deportation. Phillips' imagining of the man making his way back into America leaves a powerful impression.

Phillips is an engaging tour guide through the trip, slipping in and out of accents and characters, and often addressing the audience directly. He takes us to a great many interesting places and has a knack for teasing out lovely details. The only negative is that the show runs a bit too long for one-act, clocking in just under two hours.

While "17 Border Crossings" doesn't shy away from the politics of borders, it's a very personal, human take on the subject that invites us to contemplate what borders stand for, what they tell us about ourselves, and how and why they separate people.

"17 Border Crossings" runs through May 12 at the New York Theatre Workshop, 79 East 4th Street, NYC. For information or tickets, call 212-460-5475 or visit www.nytw.org.
Brooke Pierce is a freelance writer and playwright in New York City. Her plays have received staged readings at the American Theatre of Actors, the Ensemble Studio Theatre, and Stage One Theater. Brooke is a member of the Drama Desk and the Dramatists Guild.
Comments on Facebook