The Lightning Thief: The Percy Jackson Musical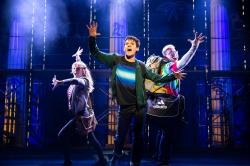 High schooler Percy Jackson has a daddy problem: he doesn't know who his real dad is and lives with his mom with a nasty (and odorific) stepdad. His mom won't tell him the identity of his real dad, which may be why sweet-tempered Percy is acting out in school. He thinks these incidents, in which he is fighting mythological beasts in the halls of the Metropolitan Museum of Art, are dreams; whatever the reason, at the onset of the engaging "The Lightning Thief: The Percy Jackson Musical" he's expelled from another school and his mother thinks it is time to tell him the truth.

Those who know Rick Riordan's popular YA series this musical is based upon (and there were many in the audience) know that Percy's dad is Poseidon (the Greek God of the sea, storms, earthquakes, and horses, at least according to Wikipedia) and what Percy thinks are dreams are intrusions into a fantastical mythological world. As it turns out, the Gods are a randy lot, finding their way to Earth for conjugal relationships with humans, creating an elite group of teens with mysterious powers and parental abandonment issues.

Percy meets them when he is sent to Camp Half-Blood, a haven for similarly gifted teens; but on the way, he fights a Minotaur who kills his mother. His mother's death brings gravity to his situation, especially when he learns he can get her back by rescuing her from the Underworld, whose portal is located in an LA record company, DOA Records. If this has shades of "Hadestown," the recent Tony-winning musical, is that both are based on the myth of Orpheus and Eurydice in which a mortal goes into the Underworld to save his fiancée.

Percy though is in danger. It appears that someone has stolen Zeus' lightning and he is being blamed; so on his quest, he must both clear his name and save his mom. Along the way, he must contend with an exploding bus, the dangerous Medusa (don't cross her stare), a smarmy Hades, who guards the Underworld, and a duplicitous friend he is warned of in a prophecy. He also finds time to (sort-of) fall for Annabeth, the strong-willed daughter of Athena. What a way to spend a summer vacation.

"The Lightning Thief" draws upon low-tech theatrical devices in telling the story — life-size puppets, well-staged fight sequences (by Rod Kinter) and smart use of LED lighting are used to great effect in creating the story's fantastical world. (The set design is Lee Savage with puppets by AchesonWalsh Studios.) It also has an attractive pop/rock score (by Rob Rokicki) that uses a variety of musical styles, from boy band pop to country; and Joe Tracz's book tells the story with equal amounts of snark and warmth.

The winning seven-person cast, led by sure-voiced Chris McCarrell as Percy, makes the more mythological elements seem every day and the relationships surprisingly real. The swift, nuanced direction is by Stephen Brackett, with some clever choreography by Patrick McCollum. How they do so much with very little can best be exemplified by the way blasts of water are displayed using a common bathroom accessory, the show's funniest visual gag. Most of the cast play multiple roles, the stand-outs being Izzy Figueroa, who is Percy's half-satyr best friend and a hilarious and very bitter camp director; and Ryan Knowles, a lanky chameleon of an actor who plays a graceful centaur with a sonorous voice, and Hades, the god of the Underworld, in a manner that suggests Jim Carrey channeling Paul Lynde. It is a hilarious turn in a warm, friendly show that will please both fans of the novels (who made up a good deal of the opening night audience) and those who know nothing of Riordan's popular series. And like most franchises, it leaves an opening for a sequel. For now, though, "The Lightning Thief: The Percy Jackson Musical" makes for a most agreeable, summertime entertainment.


"The Lightning Thief: The Percy Jackson Musical" continues through July 28 at the Avenue of the Arts/Huntington Avenue Theatre, 264 Huntington Avenue, Boston, MA. For more information, visit the Huntington Theatre Company's website.

For upcoming dates on the musical's tour, visit the show's website.
Comments on Facebook