Bar Dykes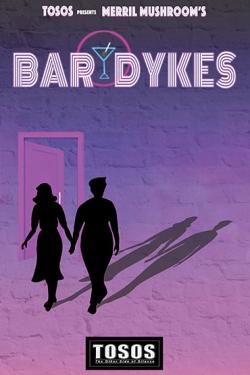 Doris Day is gently purring "Secret Love" when audiences enter The Flea Theatre for TOSOS' staging of Merril Mushroom's "Bar Dykes." The sanctuary is a modest nook with an old cash register, a few chrome tables and chairs, hanging lamps and strings of lights, and a jukebox. Things begin quietly, as Bo, the dykey bartender in pants and suspenders, preps for the evening, and a woman in heels sits demurely at a table doing a crossword puzzle.
Soon, alone or in groups, preceded by the loud, jail-like slamming of an offstage door, a parade of intriguingly diverse gay women arrives sporting character-defining period costumes. Significantly, in Mushroom's world, all of the patrons look either conspicuously butch or conspicuously femme.
"Bar Dykes" is a slice of under-documented gay life, without much in the way of plot or character development. Set in the deep South in the 1950s, the one-act, written in 1980, is a peek into the "shadow world" of a lesbian hang-out in the pre-Stonewall era. The immersive staging, with seating surrounding the playing area, encourages audiences to eavesdrop on this assorted group of gals with only one thing in common.
The play is simple and straight-forward. The habitués come to Bo's bar for sex, romance or companionship. They smoke and drink and dance and flirt. They cruise new arrivals, eyeball potential lovers, make contact, then shuffle and change partners. Jealousies flare up, and a fistfight erupts. The women discuss their parents ("My old man beat me and my mom before he left"), gay men ("Those faggots will sleep with anyone!"), outing, coming out and getting out of "the life." But a lot of the chatter centers on who's butch and who's femme - a preoccupation almost all the characters share. Certain women in the bar, known as "KiKis," go "both ways." But does a girl " gotta be one or the other," or can "butches can be flipped?" Mushroom has an ear for period lesbian lingo, as well as the Fifties beat slang, like "I'm hip," "What a gas," and "Piece of tail."
The women - and men's clothing that the bar dykes wear is a hoot (Costumes by Ben Phillip and Rachel Muza). There are manly dykes in work clothes, jeans and leather jackets; dapper dykes in stylish men's suits, and femmes is perky fifties dresses. The costumes seem to announce the characters' butch or femme status - although looks, as we soon learn, can be deceiving. The courage it takes for these women to live their lives with the inevitable threat of arrest hanging over them - though unspoken - manifests in subtle ways. Scott Brieden and Nicky Maindireatta arrive late in the play as that threat personified, but luckily for the gals, Bo has an ace up her sleeve.
The terrific sound design by Murray Campbell uses the jukebox to great effect. Not only do songs by The Platters, Jackie Wilson, Johnny Mathis, and Connie Francis locate the play in its period, but often, the lyrics comment on the hidden nature of the women's lives.
The lighting by Paul Hudson seems bright for the intimacy this kind of bar requires and makes the moments where characters discuss someone nearby, supposedly in private, difficult to stage. Hanging lights over each table, strings of orange Christmas lights, and colors emanating from the jukebox help create the appropriate atmosphere, but the bright "strip lights" on the ceiling make the room feel more like an office than a bar.
Given that nearly all of the women in "Bar Dykes" couple up and dance, Joseph Tudor's choreography could be more revealing of character and dramatic moment, and less generalized.
Directors Virginia Baeta and Mark Finley do well by all the actors. Amy Bizjak's Elaine, Keibpoli Calnek's Linda, Ure Egbuho's Sherry, Alex Guhde's Trick, Brook M. Haney's Lorraine, Azalea Lewis 's Cynthia, Kimberly Singh's Andy, Moira Stone's Bo, Angie Tennant's Bette, Emily Verla's Joyce, and Jeanette Villafante's Rusty are a engaging, committed ensemble. Watching them inhabit their cozy hideaway with abandon can't help but remind audiences how rare it is to see a play with so many gay women characters.
Mushroom's bar dykes are tantalizing, but ultimately, superficial. The play seems like a sketch for a longer, more substantial work that could dig more deeply and fully explore these women's lives. It leaves the audience wanting more.
TOSOS (The Other Side of Silence), New York's longest producing LGTBQ+ theatre company should be credited for bringing this obscure time capsule to New York audiences. "Bar Dykes" is a fascinating glimpse of a woefully under-explored subculture in gay history.
"Bar Dykes" continues through August 3 at the Flea Theatre, 20 Thomas Street, New York, New York. For more information, visit the Flea Theatre's website.
Comments on Facebook