Mojada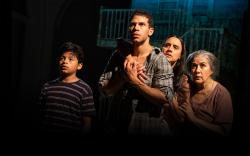 With "Mojada," now playing at the Public Theater, playwright Luis Alfaro brings us a stirring "Medea" for today. His take on the Greek tragedy by Euripides is not only set in modern-day New York City, but it is also all the more of-the-moment because the drama unfolds among a family of undocumented Mexican immigrants who has gone through hell in pursuit of a better life—and soon find themselves in a new kind of hell.

Many of today's audiences, if we're being honest, may find some Greek tragedy a bit over the top. The melodrama in these great tales of men and women meeting their terrible fates are powerful, but modern versions (when done well) have the ability to make skeptical audiences better appreciate their timeless truths. "Mojada" is one such excellent updated adaptation.

We first meet a grandmotherly figure named Tita (Socorro Santiago), who is an avid neighborhood gossip and devoted to the family she lives with: She introduces us to Medea (Sabina Zuniga Varela), a lovely young woman who is a gifted seamstress—truly an artist with a sewing machine. Medea adores Jason (Alex Hernandez), who works as an apartment rehabber and is a caring father to their adorable son Acan (Benjamin Luis McCracken).

Medea and Jason are the picture of an extremely hard-working immigrant family, exploited by those who recognize the value of their abilities. The difference, though, is that while Medea is frightened of their noisy new world and is only willing to labor in solitude at home, Jason is much more ambitious. His boss Pilar (Ada Maris), a Cuban refugee turned wealthy widow, has taken a shine to him, and he is eager to take advantage of any opportunities available to get ahead.

The tension between Jason's willingness to adapt to the land of American opportunism and Medea's attachment to the old ways eventually leads to the inevitable unraveling of their love and their lives—it also makes them both relatable.

In this adaptation of the classic tale, Alfaro does an admirable job of helping us to empathize with a heroine whose shockingly horrific actions are often hard to make sense of. Through flashbacks, we learn about the family's harrowing journey to America, which includes rape, trauma, and near-death in the desert. Given what she's been through, Medea's fear and anxieties are understandable, and they only get worse as Pilar and Jason's alliance threatens her family.

Varela gives us a vulnerable Medea who is strong but damaged — we can see traces of who she once was and hope for healing. As Jason, Hernandez is the perfect combination of loving, determined, and pragmatic, creating a believable transition from family man to company man. Santiago is marvelous as feisty Tita, and Maris makes a delicious villain as Pilar. Vanessa Aspillaga also really shines as the kind and extremely talkative Puerto Rican neighbor Luisa, who provides needed comic relief.

Under Chay Yew's fine direction, "Mojada" slowly builds to its terrible end. Offering up this beautiful family that has already been through so much, Alfaro dares us to believe that this time, this version of Medea and Jason will work it out and find a path forward to live the American dream. But fate will have its way.

"Mojada" runs through August 11 at the Public Theater, 425 Lafayette Street, NYC. For information or tickets, call 212-967-7555 or visit www.publictheater.org.
Brooke Pierce is a freelance writer and playwright in New York City. Her plays have received staged readings at the American Theatre of Actors, the Ensemble Studio Theatre, and Stage One Theater. Brooke is a member of the Drama Desk and the Dramatists Guild.
Comments on Facebook