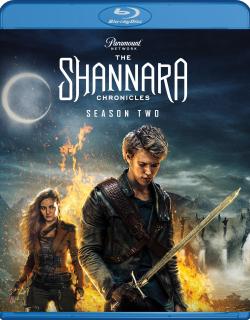 "Television's best fantasy series"
-- Forbes

Blu-ray or DVD Set Includes All 10 Episodes Plus Behind-the-Scenes Extras

Out now!

Season Two finds the Four Lands in chaos. The re-emergence of magic has the populace terrified, and an organization called The Crimson is hunting down magic users, using fear and intimidation to sow discord among the races. Wil Ohmsford, scarred by the loss of Amberle and his separation from Eritrea, has turned his back on his magical destiny to become a healer. But when a mysterious woman named Mareth saves Wil from a Crimson attack, he is forced to rejoin the fight. After reuniting with Eretria, Wil and Mareth seek out Allanon, only to learn that the Druid's former protégé, Bandon, is on a mission to resurrect a creature of darkest evil: The Warlock Lord. Together, our heroes must band together to take down The Crimson and prevent Bandon from unleashing an even greater threat upon the Four Lands...before it's too late.

The three-disc Blu-ray or DVD set includes all 10 episodes from the second season as well behind-the-scenes featurettes on the characters, actors and more.

Enter to win!

Thanks for visiting EDGE!




Enter this contest
If you already have an account with EDGE, all you need to do is log in; we'll pull your address information from your account and simply ask you to verify it. If you do not yet have an account with us, register now! It's easy and free, and you'll never have to type in your personal information again. If you prefer to enter this information manually, you can use the manual entry link below.
Register
Manual Entry
Click here for contest rules.
* Please be aware that creating multiple accounts for the same person will disqualify you.