Gay San Francisco: The Latest
British Prime Minister Boris Johnson is pressing ahead to try to win parliamentary backing for his new Brexit deal even as the European Union considers his grudging request to extend the looming Oct. 31 Brexit deadline.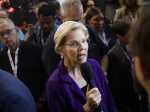 The impeachment inquiry is so ingrained in the 2020 campaign that there's little point in bringing it up.
The USS Constitution has sailed in Boston Harbor to celebrate its 222nd birthday and the U.S. Navy's birthday.
Long after more flamboyant colleagues flamed out of President Donald Trump's favor amid ethics scandals, low-profile and folksy Rick Perry survived in the Cabinet in part by steering clear of controversy. Until now.
The impeachment investigation into President Donald Trump has thrust Washington into a political crisis. And Trump keeps adding to the chaos.
A defiant Prime Minister Boris Johnson said Saturday that he would resist attempts to delay Britain's departure from the European Union beyond the end of the month, after Parliament postponed a decision on whether to back his Brexit deal.
Students at a Wisconsin high school skipped class Friday and marched through the streets of the state capital to protest the firing of a black security guard who was terminated for repeating a racial slur while telling a student not to call him that word.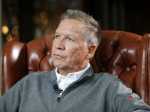 Former Ohio Gov. John Kasich, who ran against President Donald Trump in the 2016 Republican primary, said Friday that he supports impeaching the president — but isn't ready to call for his removal from office.