Gay San Francisco: The Latest
A commissioner in Sevier County, Tenn. is making headlines this week for controversial comments he made Monday that caused quite a reaction.
A federal judge on Tuesday refused to dismiss Chicago's lawsuit against former "Empire" actor Jussie Smollett.
Former President Jimmy Carter had another fall at his home in Plains, Georgia, fracturing his pelvis and going to the hospital for treatment and observation, a spokeswoman said Tuesday.
President Donald Trump injected racial overtones into the House impeachment inquiry Tuesday by comparing the Democratic-led investigation into his handling of U.S. policy toward Ukraine to a "lynching."
Florida dramatic arts teacher Monica Toro-Lisciandro says that the taxpayer-funded private Christian school where she taught a class fired her after school officials received a tip from an unknown caller that she is a lesbian.
A new exhibit at the Louvre, opening Thursday and marking the 500th anniversary of the Italian master's death, tries to sketch out as complete a picture of the artist and thinker as possible.
The new season of "She-Ra and the Princesses of Power" premieres next month, but here's an early surprise: The series will now include a non-binary character voiced by a non-binary actor.
Consumers will have more health insurance choices next year under the Obama-era health care law and premiums will dip slightly for many customers, the Trump administration announced Tuesday.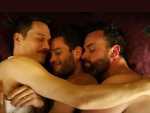 Dekkoo's new drama follows three men who embark on a three-way relationship. But when two older men bring a younger third into their floundering marriage, are they starting something new - or delaying the inevitable? Series creator Matthew Lynn weighs in.
Out actor Luke Evans took to Instagram Monday to celebrate that he can "finally" see his abs, sharing a shirtless workout pic to his 2.3 million followers.
A man charged with felony aggravated assault in the beating of a Dallas transgender woman has been convicted of misdemeanor assault.
San Francisco, CA
In the depths of the New York winter, Caissie Levy will be defrosted. Bay Area audiences can preview the thaw as Levy brings a mix of backstage stories and folk-pop arrangements of theater songs to Feinstein's at the Nikko.
An unintentional parody of the gangster film, "The Kitchen" ends up being one of the funniest films of the year despite its desire to be gritty and dramatic.
Majorities of Americans agree that diversity strengthens the country and that values such as constitutional rights, a fair judicial system and the American dream are key to the nation's identity. But the poll also reveals some striking divisions.
The United States and the U.K. say they have exposed how a group of Russian hackers hijacked the tools of their Iranian counterparts to attack dozens of countries around the world.

Under the Affordable Care Act, nonprofit hospitals are required to provide free or discounted care to patients of meager incomes — or risk losing their tax-exempt status. These price breaks can help people avoid financial catastrophe.
A pickup truck driver accused of causing a collision that killed seven motorcyclists in New Hampshire has been indicted on 23 charges saying he negligently caused the deaths and was under the influence of one or more drugs at the time.
Looking to wow the crowd this Halloween? Check out these amazing makeup ideas.

Chris Hemsworth's latest workout video is...a steamy one!
Filmmaker al.dome documents an epic trek through Norway's countryside in this short video.
San Francisco, CA
The Castro Theatre will be hopping on October 26 with SexCells, featuring Marc Almond, TR/ST, Hercules & Love Affair (playing a DJ set) and other talents.

Frank Ocean's Blonded brand is set to host a queer club night called PrEP+, so named for the HIV prevention drugs, and to imagine what the 80s would have been like if PrEP had existed then.