A recent study out of Oregon suggests emergency medical responders — EMTs and paramedics — may be treating minority patients differently from the way they treat white patients.
A U.S. judge in California on Sunday blocked Trump administration rules, which would allow more employers to opt out of providing women with no-cost birth control, from taking effect in 13 states and Washington, D.C.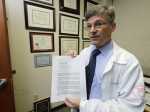 Doctors who specialize in female pelvic medicine say lawsuits by four states, including Washington and California, over products used to treat pelvic floor disorders and incontinence might scare patients away from the best treatment options.
Starting next month, packages of Bud Light will have prominent labels showing the beer's calories and ingredients as well as the amount of fat, carbohydrates and protein in a serving.
A doctors' strike in Zimbabwe has crippled a health system that was already in intensive care from neglect.
The National Institutes of Health is pushing for development of what its director, Dr. Francis Collins, has called a "pain-o-meter." Spurred by the opioid crisis, the goal isn't just to signal how much pain someone's in.
Too often people die of an opioid overdose because no one's around to notice they're in trouble. Now scientists are creating a smartphone app that beams sound waves to measure breathing — and summon help if it stops.
Federal and community partners have released some resources related to HIV and aging.
A doctor examined an Arizona woman in a vegetative state nearly nine months before she gave birth but did not find that she was pregnant.
A U.S. judge will hear arguments Friday over California's attempt to block new rules by the Trump administration that would allow more employers to opt out of providing no-cost birth control to women.