Top Story
President Donald Trump on Thursday minimized the ongoing threat of the Islamic State and overstated his economic success, declaring inaccurately that China would have overtaken the...
1 thru 10 of 13727 Stories
When the nation's largest utility warned customers that it would cut power to nearly 2 million people across Northern California, many rushed out to buy portable generators, knowing the investment could help sustain them during blackouts.
Imagine discovering that your newborn's brand new Social Security number has already been used to construct what Eva Velasquez, president and CEO of the Identity Theft Resource Center, calls a "Frankenstein monster of identity."
A simple yes-or-no question keeps tripping up Senate Republicans: Should the president ask foreign countries to investigate political rivals?
Nobody lives as closely with the environmental fallout of Venezuela's collapsing oil industry as the fishermen who scratch out an existence on the blackened, sticky shores of Lake Maracaibo.
British Prime Minister Boris Johnson was to brief his Cabinet Sunday on the progress of last-minute Brexit talks with the European Union, amid signs of progress but also deep-seated skepticism about the chances of a deal.
Alaska Airlines and American Airlines will scale back their mileage plan partnership early next year.
Whether it's an Ivy League college or a high-priced "dream school," too many people believe certain educations are worth endless effort, stress — and debt.
A Christian radio co-host who is accused of repeatedly raping a girl at his church has hired as his defense attorney a man who later dated the alleged victim.
Since the end of the Obama administration, the number of Cubans deported from the U.S. has increased more than tenfold to more than 800 in the past year as the Trump administration enforces a new policy inked just days before it took over.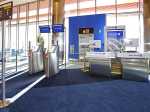 United Airlines is the third and final U.S. airline to give up plans to return a grounded Boeing plane to service this year.
1 thru 10 of 13727 Stories