Top Story
Sam Smith explains how he came to sing a duet of "Get Happy" with Renée Zellweger for the film "Judy."
The delightful "A Night at Switch n' Play" is probably the queerest film we have seen in a very long time.
Be charmed by this French tale of speedo-clad swimmers who just want to win.
"Bit" lacks bite, but it shows promise in its young writer/director.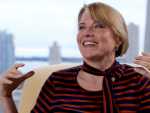 This documentary talks about the importance of LGBTQ+ television representation, as well as the particularities and power of queer fandom.
"Queer Genius" documents queer artists of the present day: Barbara Hammer, Black Quantum Futurism, Jibz Cameron, and Eileen Myles.