1 thru 10 of 2912 Stories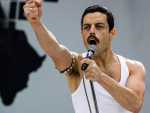 The advocacy organization GLAAD says that LGBTQ representation is up for major studio films released in 2018, but that none included transgender characters.
Hit a button, and you're "transformed" into a woman. The beard disappears. The face and jaw smooth out. The hair floats jauntily around the shoulders.
Gloria Steinem, Cecile Richards, Michelle Obama. Barbie? The Council of Fashion Designers of America will follow up those prestigious honorees of its Board of Directors' Tribute Award with the ever-evolving doll.
The legacy of American architect I.M. Pei stretches from west to east, from the Louvre museum to his native China, where he helped fuse tradition and modernity as the country opened up after the Cultural Revolution.
The U.S. government is forcing a Chinese company it doesn't trust to sell the gay dating app Grindr by 2020, according to a report from CNN.
Penis enlargement may be hazardous to your health. Nor does it work, according to a new British study.
A new museum opening at the Statue of Liberty is giving visitors another opportunity to explore its history and the impact the iconic structure has had on the world.
An exhibition at the Henry Ford Museum of American Innovation in suburban Detroit is offering a glimpse into the world of "Star Trek."
Political issues that excite newsprint, the airwaves and social media are getting a very open airing at the 58th Venice Biennale contemporary art fair, like so much laundry hung out to dry in the lagoon breeze.
StoryCorps is preparing to launch Stonewall OutLoud, a participatory initiative to gather the stories of LGBTQ elders before they are lost to history. The initiative coincides with the 50th anniversary of the Stonewall uprising.
1 thru 10 of 2912 Stories