1 thru 10 of 7472 Stories
Scientists are testing how pharmaceutical-grade MDMA can be used in combination with psychotherapy to help patients with a severe form of PTSD that has not responded to other treatments.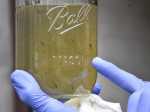 The World Health Organization says the levels of microplastics in drinking water don't appear to be risky, but that research has been spotty and more is needed into their effects on the environment and health.
The number of breathing illnesses reported among people who vape is growing. Health officials are now looking into more than 150 possible cases in 16 states.
How companies run by Miami businessman Jorge A. Perez and his associates were able to drive so many hospitals into the ground so quickly, devastating their communities, is a story about the fragility of health care in rural America.
What I learned, besides fascinating facts about rabies, its transmission and the horrible ways one can die from it, was that any one of us is a mere cat scratch away from financial peril if we aren't lucky enough to have good health insurance.
More women may benefit from gene testing for hereditary breast or ovarian cancer, especially if they've already survived cancer once, an influential health group recommended Tuesday.
Quick fixes may treat the symptoms, but never the cause... until now. GAINSWave technology is a major breakthrough.
Party drugs like crystal meth, Special K, GHB and ecstasy are frequently combined for more intense or longer-lasting highs. Whether they're consumed together by design or accidentally, the results can be deadly.
Regardless of her reputation as a performer, Aretha Franklin's cancer doctors say she was no diva as a patient.
Out actor Colton Haynes has discussed his addiction and mental health in the past but he took to Instagram this week to share photos of himself during "dark times" when he was hospitalized last year after a drug and alcohol bender.
1 thru 10 of 7472 Stories