Top Story
The anti-LGBTQ school where Karen Pence is now working has a care package coming from The Trevor Project: 100 copies of a book about a gay bunny with the same name as the Pence fam...
1 thru 10 of 47971 Stories
The world economy absorbed more bad news Monday: The International Monetary Fund cut its growth forecast for 2019. And China, the world's second-biggest economy, said it had slowed to its weakest pace since 1990.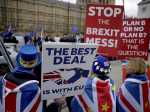 Prime Minister Theresa May on Monday rejected calls to delay Britain's departure from the European Union, and said her Plan B was to get her rejected Brexit deal approved by Parliament after securing changes to a contentious Irish border measure.
More South Korean female skaters are accusing their coaches of sexually abusing them.
As Americans commemorate Martin Luther King Jr., Democratic presidential hopefuls are fanning out across the country to honor the civil rights leader and make themselves heard on the national stage.
British police have spoken with Prince Philip after the husband of Queen Elizabeth II was photographed apparently driving without wearing a seatbelt — just two days after he was involved in a serious car crash.
The Vatican received information in 2015 and 2017 that an Argentine bishop close to Pope Francis had taken naked selfies, exhibited "obscene" behavior and had been accused of misconduct with seminarians.
Bitter cold is setting in after a major winter storm blanketed a wide swath of the country in snow, sleet and rain this weekend, creating dangerously icy conditions,
The student who stared and smiled at an elderly Native American protester drumming in his face outside the Lincoln Memorial says he did nothing to provoke the man in the videotaped confrontation and was only trying to calm the situation.
Frigid air and high winds are causing dangerous travel conditions throughout the eastern U.S. after a powerful winter storm pummeled the region over the weekend.
The duo, every bit as formidable now as when they won that first title, face the Rams, now back in Los Angeles, in a Super Bowl rematch of sorts that pits the NFL's past against its future.
1 thru 10 of 47971 Stories