Top Story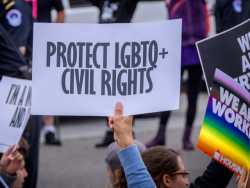 Twenty-eight U.S. states have adopted no laws that prohibit workplace discrimination targeting LGBT employees. Only a small percentage of cities and counties offer protection at th...
1 thru 10 of 51938 Stories
Students at a Wisconsin high school skipped class Friday and marched through the streets of the state capital to protest the firing of a black security guard who was terminated for repeating a racial slur while telling a student not to call him that word.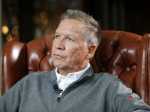 Former Ohio Gov. John Kasich, who ran against President Donald Trump in the 2016 Republican primary, said Friday that he supports impeaching the president — but isn't ready to call for his removal from office.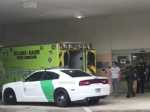 An armed Border Patrol agent roamed the hallways of an emergency room in Miami on a recent day as nurses wheeled stretchers and medical carts through the hospital and families waited for physicians to treat their loved ones.
After a police officer fatally shoots someone, it can take days or even weeks before the public or his supervisors hear the officer's version of what happened. In many states, that so-called cooling off period is carved out in state law or in a police de
It's Hillary Clinton vs. Tulsi Gabbard on the sidelines of the 2020 presidential race. The Hawaii congresswoman fought back unsparingly after Clinton appeared to call her "the favorite of the Russians" in a recent interview.
It wasn't too long ago that Donald Trump derided presidential executive orders as "power grabs" and a "basic disaster." He's switched sides in a big way: In each year of his presidency, he has issued more executive orders than did former President Obama.
None of these is legit, even though they were shared widely on social media. The Associated Press checked them out. Here are the real facts.
Frayed U.S. relations with Turkey over its incursion in Syria raise a sensitive question rarely discussed in public: Should the United States remove the nuclear bombs it has long stored at a Turkish air base?
The State Department has completed its internal investigation into former Secretary of State Hillary Clinton's use of private email and found violations by 38 people, some of whom may face disciplinary action.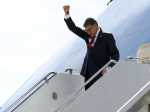 Energy Secretary Rick Perry announced Thursday that he will leave his job by the end of the year, saying that under President Donald Trump the nation is nearing energy independence.
1 thru 10 of 51938 Stories