1 thru 10 of 2481 Stories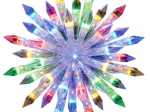 Had enough of all that serene winter wonderland decor, the birch trees and reindeer and sleighs? Ready to change it up this year and boogie down?
Millions of pet owners let their four-legged friends sleep in bed with them because it makes them feel safer.
Do you have a kid in your life who loves a good baking session? Who really wants to use your chef's knife? Who is addicted to the TV show MasterChef Junior, and who uses words like "umami" in regular conversation?
Between purchasing the perfect gift, buying food to feed the whole family and traveling to see loved ones, over a quarter of Americans have gone into debt due to holiday spending, according to new research.
Kondo is promoting her picture book. The story of Kiki, a squirrel with a hoarding problem, and Jax, a meticulous owl who loves to sort.
"Queer Eye: We're in Japan!," a four-episode "mini-season" that hits Netflix Friday, gives the lauded reality show a breath of fresh air but leaves more to be desired.
Chris Brown says he's having a high-end yard sale at his Los Angeles home, and a crowd has been gathering for hours.
Sitting in traffic, standing in line at the DMV and giving up chocolate for a year are just some of the things Americans would be willing to do to save a significant chunk of cash on their holiday shopping, according to new research.
If the Halloween candy starts to disappear, mom or dad is the likely culprit.
Two of the hottest trends in home decor are sustainability and authenticity. No wonder architectural salvage shops are busy.
1 thru 10 of 2481 Stories