Top Story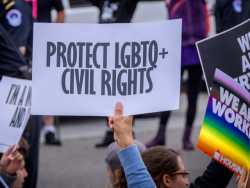 Twenty-eight U.S. states have adopted no laws that prohibit workplace discrimination targeting LGBT employees. Only a small percentage of cities and counties offer protection at th...
1 thru 10 of 51942 Stories
The USS Constitution has sailed in Boston Harbor to celebrate its 222nd birthday and the U.S. Navy's birthday.
Long after more flamboyant colleagues flamed out of President Donald Trump's favor amid ethics scandals, low-profile and folksy Rick Perry survived in the Cabinet in part by steering clear of controversy. Until now.
The impeachment investigation into President Donald Trump has thrust Washington into a political crisis. And Trump keeps adding to the chaos.
A defiant Prime Minister Boris Johnson said Saturday that he would resist attempts to delay Britain's departure from the European Union beyond the end of the month, after Parliament postponed a decision on whether to back his Brexit deal.
Students at a Wisconsin high school skipped class Friday and marched through the streets of the state capital to protest the firing of a black security guard who was terminated for repeating a racial slur while telling a student not to call him that word.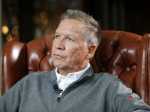 Former Ohio Gov. John Kasich, who ran against President Donald Trump in the 2016 Republican primary, said Friday that he supports impeaching the president — but isn't ready to call for his removal from office.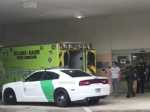 An armed Border Patrol agent roamed the hallways of an emergency room in Miami on a recent day as nurses wheeled stretchers and medical carts through the hospital and families waited for physicians to treat their loved ones.
After a police officer fatally shoots someone, it can take days or even weeks before the public or his supervisors hear the officer's version of what happened. In many states, that so-called cooling off period is carved out in state law or in a police de
It's Hillary Clinton vs. Tulsi Gabbard on the sidelines of the 2020 presidential race. The Hawaii congresswoman fought back unsparingly after Clinton appeared to call her "the favorite of the Russians" in a recent interview.
It wasn't too long ago that Donald Trump derided presidential executive orders as "power grabs" and a "basic disaster." He's switched sides in a big way: In each year of his presidency, he has issued more executive orders than did former President Obama.
1 thru 10 of 51942 Stories