Top Story
Charlize Theron is revealing that she's raising her child Jackson, whom she adopted and introduced to the world as a boy, as a girl.
1 thru 10 of 49342 Stories
A man suspected of involvement in a mysterious dissident group's February raid on North Korea's Embassy in Madrid was arrested in Los Angeles by U.S. authorities.
London police say more than 710 people have been arrested and some 28 have been charged since climate change protests began earlier this week in the British capital.
Egyptians cast their ballots Saturday on the first of three days of voting on constitutional amendments that would allow President Abdel-Fattah el-Sissi to stay in power until 2030 and broaden the military's role.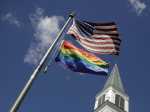 America's largest mainline Protestant denomination is on a path toward likely breakup over differences on same-sex marriage and ordination of LGBT pastors.
Special counsel Robert Mueller all but boldfaced this finding in his report on the Russia investigation: No exoneration for President Donald Trump on whether Trump criminally obstructed justice. That's not how Trump is spinning it.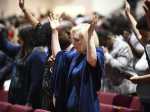 By now, most Democratic presidential candidates have polished their stump speeches. But when they're in South Carolina, they may need to add in a sermon.
President Donald Trump lashed out Friday at current and former aides who cooperated with special counsel Robert Mueller's investigation.
The legal threat to Trump that seemed so dangerous upon Mueller's appointment in May 2017 has waned.
Police in Northern Ireland on Saturday arrested two teenagers in connection with the fatal shooting of a journalist during rioting in the city of Londonderry.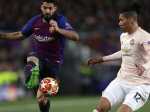 Social media companies did not appear to respond on their networks to the players' concerns despite widespread coverage and support from FIFA for the boycott.
1 thru 10 of 49342 Stories