José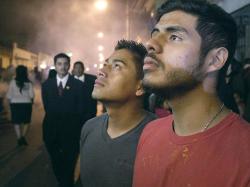 Li Cheng's new drama Jose is preceded by a huge reputation after it beat out the multi Oscar nominated "The Favorite" to win the Queer Lion at Venice's Prestigious Film Festival last year. It is (to our knowledge) the first LGBTQ movie ever to be made in Guatemala and is a tender coming-of-age story that makes a deep reaching impression that is difficult to forget.

José (Enrique Salanic) is a 19 year old living with his mother in their shabby cramped apartment in Guatemala city. The two of them can barely scrape a living together in this totally impoverished economy that seems to lack any hint of hope or possibility. Each day at dawn, the mother (Ana Cecilia Mota) packs her homemade sandwiches, which she is going to sell at the bus terminal until the authorities eventually ban all the itinerant street sellers that hang out there.

José, on other hand, is employed by a small scruffy cantina to flag down passing cars and get the drivers to buy food. When his shift is over, he uses his phone to hook up with men to have anonymous sex before he goes home. He seems content enough with this pattern until one day his partner for a sexual liaison is Luis (Manolo Herrera), a construction worker who soon makes it clear that he wants to make this a regular habit.

Luis came to the city just for work and doesn't share José's desire to spend all his life there, but when it is clear that they are both falling in love, he suggests that they leave and set up home together in the country. Luis has to ponder this all with the thought that it would mean leaving his mother totally alone to fend for herself.

Cheng co-wrote the movie with his producer, George F. Roberson, and they based their script on the hundreds of interviews that they conducted with locals in Guatemala. All of the actors featured are untrained and are making their film debuts, which is even more outstanding when you see the finely nuanced performances from the two male leads.

Cheng incorporates all of that society's prejudices, from homophobia to the deeply religious culture that makes the possibility of the two men ever coming out as gay, nigh impossible. He does, however, avoid all the usual melodramatic stereotypes and lets the men's relationship follow its own path. Even when Jose's doting mother has worked out the true nature of her son's relationship with Luis, all she does is privately pray that he will come through it okay.

This may be a contemporary story, but in such a third world country where there is little sign of any of the usual accoutrements or material possessions this could have easily been mistaken for sometime in the past.

However, it is the subtle and touching chemistry between Salanic and Herrera that makes this movie so electrifying. They are two men who are simply content in the joy of finding each other and having a moment of unadulterated happiness away from their tough, impoverished lives, even though it may not last forever.

It's easy to see why the Venice Jury was so swayed, as audiences around the globe will be too.
Roger Walker-Dack, a passionate cinephile, is a freelance writer, critic and broadcaster and the author/editor of three blogs. He divides his time between Miami Beach and Provincetown.
Comments on Facebook