Top Story
"Anytime we get together as a community, it allows us to celebrate ourselves in safety with others," says DJ Nina Flowers. "I believe that space is still needed.&quo...
1 thru 10 of 55585 Stories
It seems to have been more like a typical Saturday night than a drunken New Year's Eve.
ABC News reporter James Longman announced last week that he is engaged.
One of two people hit by a man who drove his car onto a closed Seattle freeway and into a crowd protesting police brutality has died.
A loose network of Facebook groups that took root across the country in April to organize protests over coronavirus stay-at-home orders has become a hub of misinformation and conspiracy theories that have pivoted to a variety of new targets.
Life with the Conways -- Kellyanne, husband George and their daughter Claudia -- is beginning to look like a TLC reality show.
Mississippi just ditched its Confederate-themed state flag. Later this year, the state's voters will decide whether to dump a statewide election process that dates to the Jim Crow era.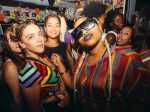 "The outpouring of love and donations on the various platforms has been incredible. But we need continued support until we reopen," says Henrietta Hudson owner Lisa Cannistraci. "I'm not going to lose the bar. I'm not going to let it happen."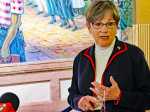 A Kansas newspaper posted a cartoon on its Facebook page likening the Democratic governor's order requiring people to wear masks in public to the roundup and murder of millions of Jews during the Holocaust.
As the coronavirus spreads in Africa, it threatens in multiple ways those who earn their living on the streets — people like Mignonne, a 25-year-old sex worker with HIV.
A car drove onto a closed freeway early Saturday and struck two people in a crowd protesting against police brutality, killing one and critically injuring the other, authorities said.
1 thru 10 of 55585 Stories