Gay San Francisco: The Latest
San Francisco, CA
For the first time ever, Frameline and San Francisco Pride will present Pride Movie Nights at Oracle Park on Friday, June 11, and Saturday, June 12, 2021.
When he came out, Colton Underwood wiped his Instagram account clean — a fresh start, so to speak. Since coming back, he has only posted a few times. This past weekend he posted to his IG stories account pics of a recent workout.
"I make stuff out of clay," says hunky, 20-year old ceramic artist Theo Hirschfield on his Instagram page. And it has made him a social media sensation with many hoping he will recreate the iconic scene from the romantic drama "Ghost."
The "Pose" breakout star says wearing her natural hair for a role in the upcoming season 10 of "American Horror Story" affirmed her identity as a Black woman.
About the 2020 election, the former Olympian, reality TV star and governor of California candidate says she "didn't even vote" and went to play golf instead.
We're looking back at Cher's forgotten 2000 album "not.com.mercial" (or "Not Commercial"), which she released exclusively through her website at the time.
Broadway shows are tripping over themselves to announce that tickets are once more available. But don't get dressed up just yet: The curtains won't rise for most until September or October.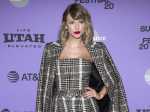 Taylor Swift will be honored as a global icon on Tuesday at the Brit Awards, set to be held in front of a live audience of 4,000 as part of a test return to mass-attendance events.
From wedding dressing and underwear to cover models, the UK is seeing an influx of emerging talent looking to move the needle when it comes to gender inclusivity in the fashion world.
It sounds like many of the old flames who appeared on "Sex and the City" over the years might not be returning for the show's HBO Max reboot.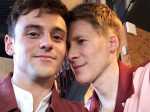 British diving champ Tom Daley marked the fourth anniversary of his wedding to producer-screenwriter Dustin Lance Black with a loving Instagram post.
U.S. regulators on Monday expanded the use of Pfizer's COVID-19 vaccine to children as young as 12, offering a way to protect the nation's adolescents before they head back to school in the fall and paving the way for them to return to more normal activit
San Francisco, CA
Though Ed Helms is top billed, its transgender comedian Patti Harrison who walks away with the top acting honors in "Together Together," Nikole Beckwith's charming new comedy/drama about the relationship between a prospective single dad and his surrogate.
Dorothy Arzner's pre-Code drama "Merrily We Go to Hell" has received a superlative release from The Criterion Collection, including a terrific new 4K restoration and a few great special features to dig into.
"We're almost ready to pop," promises the "Just the Tipsy" website. The line is a double-entendre, intended to announce the release of a new wine; but the joke doesn't make sense unless its unique bottle design is seen.
Lurking beneath Facebook's decision on whether to continue Donald Trump's suspension from its platform has raised a more complex and consequential question.
A variety of plans allow travelers to customize everything from deductibles to the maximum amount of coverage. Find a plan that suits your needs and budget, knowing you have the option for accident and sickness travel medical, too.
Edmunds experts report on five ultra-capable off-roaders that are either already on dealer lots or worth waiting for in the coming months.
Teen Vogue has chosen Versha Sharma, a top editor at NowThis, to replace Alexi McCammond as editor in chief after a swirl of controversy over McCammond's past anti-Asian and homophobic tweets.
Fewer Americans are reluctant to get a COVID-19 vaccine than just a few months ago, but questions about side effects and how the shots were tested still hold some back, according to a new poll.
Americans set a record for pandemic-era air travel, then broke it again over the Mother's Day holiday weekend.
San Francisco, CA
Feinstein's at the Nikko, San Francisco's premiere nightclub, will once again bring Broadway stars and Bay Area acts to its stage. Performances are set to resume on May 20 with an all-star lineup.

The author of "Still Straight: Sexual Flexibility among White Men in Rural America" investigates why some men who identify as straight have sex with other men.