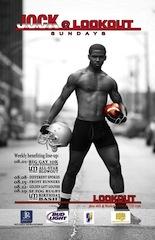 JOCK Sundays at Lookout
3600 16th St
San Francisco California 94107

Contact

Phone
Description
JOCK SUNDAYS @ LOOKOUT is a weekly Sunday afternoon/early evening, high-energy jump fueled by a rotating cast of superstar DJs. Packed every Sunday with hot, sweaty, jocular boys - and girls - JOCK is ALL-STAR!

3 PM - 8 PM

$2 suggested door donation

Weekly benefiting line-up, watch out for jocks, speedos and sweat!