Queer Genius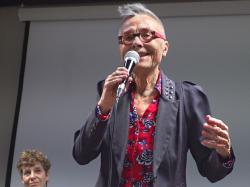 "Queer Genius" weaves the story of five queer multi-disciplinary American artists together in an ambitious documentary. In a little over two hours, Chet Catherine Pancake presents audio, visual and performance art that spans decades coming from vastly different backgrounds. For art history buffs, Barbara Hammer's section, in particular, will be poignant and illuminating, may she rest in peace. I will admit that, as much as I personally love going to museums and pursuing fringe art in various venues, I'm not familiar with all the artists who were featured and I found the piece educational, but not entertaining. Each highlight was filmed in a particular style and incorporated either footage or pieces of the artist's own work to complement the section.

I found myself analyzing and appreciating both the quality of the production as well as the vulnerability of the artists during their personal interviews. Their thought processes for their particular types of experiments in art as well as additional commentary from fans and supporters provided a less one-sided account than I'm used to seeing in documentaries of this type. For Barbara Hammer and Eileen Myles, older footage presents first-hand accounts of different phases in their processes for the two of them. For the relatively younger artists - Jibz Cameron, primarily a performance artist, and the duo Black Quantum Futurism comprised of Rasheedah Phillips and Camae Ayewae, nee Moor Mother - only their current projects and ideas are presented.

Politics and power dynamics outside of the art world are things all five of them think about deeply, and it shows in their work. Black Quantum Futurism's work to assist those displaced by Sharswood's gentrification in Philadelphia is the helpful intersection between genius and community. Jibz Cameron as Dynasty Handbag clowns in order to poke fun at modern neuroses. Barbara Hammer's work was always extremely personal and thus, as she changed over time, her work delved into whatever she was immediately grappling with, which was sometimes obstacles placed by other people upon her. Eileen Myles, a writer and organizer, even ran for president to promote her own views.

There are lovely overlaps across all of their work, particularly because all of the artists have attempted to do multiple things with the written word, spoken word, music, video, performance art and installation art. The blending of their different styles along the longer narrative moves the film along a gentle arc. Although sex and queer culture are not necessarily at the forefront of each artist's topics, they all at least mention being of our community. For Hammer and Myles in particular, their views about sex and lesbianism have crystallized into viewpoints and expressions that they are comfortable with, and perhaps the younger artists have not had time or even intention of really delving into that part of their lives yet. Community and context, as much as the driving passion and talent of the individuals, matter, and are made more concrete by the editing of this documentary. While it is not for everyone, this piece is of historical value, even for people who hate avant-garde art.
Noe Kamelamela is a reader who reads everything and a writer who writes
very little.
Comments on Facebook