Review: Harrowing Drama 'Test Pattern' Depicts Obstacles for Rape Survivors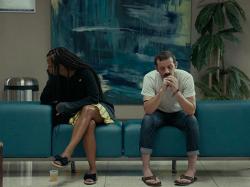 In the aftermath of the #MeToo movement, more media attention has rightfully been paid to rape and sexual assault. Recent films and series, such as "Promising Young Woman," "I May Destroy You," and "The Assistant" examine rape and rape culture. "Test Pattern" poignantly portrays a Black woman navigating medical care as a rape survivor.

Written and directed by Shatara Michelle Ford, the drama stars Brittany S. Hall as Renesha and Will Brill as Evan, an interracial couple going to hospitals for a rape kit. Similar to how Eliza Hittman's phenomenal film "Never Rarely Sometimes Always" depicts obstacles in abortion access, "Test Pattern" similarly exposes hurdles in obtaining a rape kit for rape and sexual assault survivors. Both films exhibit the gaps accessing medical procedures often needed by cis and trans women, trans men, and non-binary people.

Told through flashbacks, the film's first half establishes Renesha and Evan's relationship: Happy, affectionate, and supportive. We see how they meet and their first date. While rape catalyzes the narrative, the film is truly about how it impacts and strains their relationship. It also reifies Renesha's life and identity outside of her trauma.

After a night out with her friend, Renesha tells Evan she woke up in a stranger's bed, unable to remember what happened. Evan suggests they go to the hospital. It's great that he's supportive, and he obliquely acknowledges (rightfully so) Renesha couldn't consent due to intoxication. Yet it removes her agency that she doesn't say she wants to go.

The film dramatically improves in the second half, once the couple embarks on their quest. At the first hospital, Evan angrily yells at a nurse after waiting two hours for a rape kit, only for another nurse to inform them a sexual assault nurse examiner must administer the forensic examination. They trek from hospital to hospital, perpetually thwarted. While no one victim blames Renesha, some medical staff seem disturbingly cavalier about her trauma.

Brittany S. Hall gives a good performance; she portrays a composed character trying to hold it together amidst a crisis. She also compellingly conveys emotional pain and triggering flashbacks. Will Brill's performance is uneven. While he's fairly adept at exuding anger and trying to exert control, his performance feels stilted in the film's first half as the nice, supportive boyfriend.

While Renesha and Evan being an interracial couple isn't explicitly discussed, it nonetheless changes the dynamic as they navigate hospitals. It also exacerbates Evan's creepy, controlling comments in a flashback about wanting to "brand" Renesha with tattoos (he's a tattoo artist) as a white man to a Black woman.

There are some good choices in cinematography and score. As Renesha and Evan sit in a waiting room, the camera pans pushing them out of the frame, perhaps echoing feeling pushed aside by medical bureaucracy. In the car, the camera whips back and forth, mirroring tension. Going from hospital to hospital, an intense score mimics a ticking clock, while in another scene, "Waltz of the Flowers" from "The Nutcracker" plays, in an intriguing, jarring juxtaposition to Renesha filling out paperwork.

"Test Pattern" doesn't cover what a forensic examination entails, aside from how someone can stop at any point. It doesn't delve into the massive backlog of rape kits in Texas (the film's setting) and nationwide. But it eloquently and harrowingly depicts how difficult and discouraging it is for rape and sexual assault survivors to access medical care. "Test Pattern" is a solid addition to the discourse and growing pantheon of films about rape and rape culture.


"Test Pattern" is available in virtual cinemas via Kino Lorber on February 19, 2021.
Comments on Facebook