Watch: Ready for it? Madonna Announces New Album & Single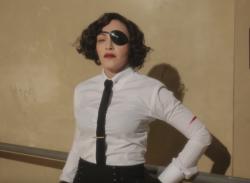 Madonna is gearing up for a new album release.

Though no official date for her 14th album has been announced, Madonna revealed this week that the project will be called "Madame X" and her first single is called "Medellin," which features Colombian singer Maluma. That song will be out Wednesday.





She also shared a trailer for "Madame X." She wrote of the album:

Madame X is a secret agent
Traveling around the world
Changing identities
Fighting for freedom
Bringing light to dark places

She is a cha cha instructor
A professor
A head of state
A housekeeper
An equestrian
A prisoner
A student
A teacher
A nun
A cabaret singer
A saint
A prostitute

Check out the trailer below.

"Madame X" follows up her 2015 LP "Rebel Heart."

Last October, she discussed her new album in an interview with Women's Wear Daily, confirming it'll be out in 2019.

"I'm finishing my record, which I'm going to release next year," she said. "Yep, in between rose mist spray and serums, I'm actually making music. Can't quit my day job."

Before that, in April 2018, she said she's been living in Lisbon and that the culture inspired new music. She told Vogue that her new songs "will be collected in an album that will be released by the end of the year."
Comments on Facebook