Puppets & Poe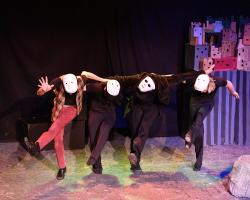 "Puppets & Poe," the Halloween-tinged, avant-garde collaboration from Theater of Yugen that just opened in the Mission, warns/promises audiences in advance that it features "scents, strobes, loud noises, irreverence, creepy puppets" and "a fuck-ton of swearing."
Threaten us with a good time why don't you?
This is a show where the entire cast flees the theater at the end instead of making any kind of curtain call, and where even the people working the concession stands remain both in costume and in character as deranged performance artists at all times.
If any of that sounds promising, it certainly is. But you have to sift through a lot of detritus to find the pearls in this pageant, which at over two hours is too long by half, and which can ask a lot of the audience without always doing many favors in return.
The "Puppets" part of the title is potentially misleading. True, there are a fair number of traditional puppet forms onstage, including an Edgar Allan Poe marionette that moonwalks and a skeleton burlesque dancer that strips under a blacklight.
But a lot of the puppetry also consists of unexpected things like surreal false heads, surprising masks, exaggerated anatomical appliances, and just plain strange uses of the human body.
The "Poe" part is also probably not what most audiences imagine. While director Shannon R. Davis and company very plainly has Poe on the brain, and while every scene at least acknowledges some Poe produce, almost none of what we see is a straightforward adaptation.
Instead, we get alternating madcap skits of either morbidity or humor (Poe actually wrote a lot of comic stories that people don't much talk about anymore, so the trend toward farce is not that surprising). How closely any of them stick to either the written works or audience expectations is a pure roll of the dice.
Sometimes it's a puppet theater production of "Murders In the Rue Morgue," complete with rooftop chase that all looks like Mr. Rogers' Neighborhood of Make Believe went on a bender.
Or it's an affected but convincingly creepy mime act with masked, dancing music box figures slowly winding down into inertness and death.
And at the grand finale, it's a shockingly beautiful and hallucinatory account of sailors lost at sea, complete with onstage storms and an alarming moment when the cast enters from behind the audience despite the fact that there are absolutely no doors on that side of the theater.
(We won't give away how they did it, but the answer is so simple it might qualify as genius.)
These are some of the great moments from Davis and the many collaborators at work here. But in between all of that, we face many entries that are too opaque, too trying, or sometimes just too silly to feel worth the patience required.
"Puppets & Poe" is so unpredictable that it feels like the product of half a dozen people—which it is. All six-cast members get simultaneous credit as set designers, costume designers, assistant directors, choreographers, and dramaturges, and it's clear that the script spawned from many, many different minds.
Tastes vary, and one person's pearl is another person's swine, so in theory, this approach means there's something for everyone. And yet it becomes really trying wondering at every scene change whether the next offering is going to be a treat or a trial.
The expectation of consistency defeats the idea of this show's kaleidoscopic approach. But that doesn't change the fact that some consistency would have been nice.
A loose conceit of a troupe of post-apocalyptic mummers adapting Poe's writings in a ruined world runs through "Puppets & Poe" but doesn't really imbue it with much tangible identity.
Similarly, the notion of exploring how legitimately warped minds might interpret the author's affected themes about madness tantalizes, but still doesn't get the full attention it deserves.
There's too much raw creative energy at work to dismiss "Puppets & Poe." But neither is it ever really something that can be taken seriously.
"Puppets & Poe" runs through November 2 at Theatre of Yugen, 2840 Mariposa Street in San Francisco. For tickets and information, visit TheatreOfYugen.org
Comments on Facebook