'Chicago' Still Hard to Ignore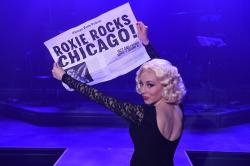 It's been 45 years since Bob Fosse made the name "Chicago" synonymous with jazz and murder, much to the presumed chagrin of the Windy City's tourism board.
The seminal cynical classic just opened at San Jose Stage, with go-to ingenue Monique Hafen as Roxie, the would-be 20s lounge singer who becomes acclaimed not for her act but for an act of homicide.
After Roxie kills her boyfriend in a jealous fit, she indeed becomes the city's biggest star — so titillated are her neighbors by the juicy scandal.
And this is where the casting gets really intriguing because, in the past, almost every other musical has designated Hafen as exactly the type of starry-eyed, guileless romantic heroine that Roxie would like everyone to believe she is — rather than the crass opportunist she actually is.
But it's the damndest thing: watching Hafen work, it's sincerely hard to hold anything against Roxie, possessing as she does a kind of doe-eyed obliviousness. She's guilty as hell — but hard to blame.
Fosse and collaborator Fred Ebb adapted "Chicago" from a 1926 drama that was itself loosely based on two real jazz-age Chicago murder cases. Omnipresent San Jose Stage leading lady Allison Rich plays opposite Hafen as Velma, a real star charged with a similarly juicy double murder, who serves as Roxie's foil.
At first glance this seems like the most obvious casting in the world. But Rich — in perhaps an all-time first — doesn't always seem entirely suited to the role.
Part of that was a bum mic on opening night that robbed her singing voice of much of its luster. But there were other times when she doesn't seem to able to handle the snappiness of Tracey Freeman-Shaw's choreography, as well as most of the cast in numbers like "The Cell Block Tango."
There are other weird cast hiccups too. While Sean Doughty's bluff face and eager smile seem ideal as Roxie's put-upon schmuck husband, Doughty actually comes out looking much too sharp in his wardrobe to be such a blue-collar Joe.
Whereas when Keith Pinto first appears as Roxie's conniving Lawyer, he looks for all the world as he's about to try to sell you the hubcaps he just stole off your car. Certainly both men are naturals at their roles once they open their mouths — Pinto in particular brings a sort of skeezy game show host vibe to the courtroom — but they appear oddly out of place.
Nevertheless, "Chicago" maintains this wit and verve of the original, as well as its sultry atmosphere, enhanced here by hazy lighting and costumes that hit all the most important benchmarks: dark, minimal, and revealing.
Indeed, that's a fine summary of the show in general, for which director Randall King sticks close to its classical staging. There's essentially no set at all and virtually nothing else to distract from the whiplike dance routines and maddeningly catchy score.
The biggest perennial complaint about "Chicago" — that it's a mean-spirited show in which terrible people are rewarded and the few truly sympathetic characters get the screws — holds true more than four decades after its original Tony wins.
But, perversely, this is also the kernel of the show's appeal. It's a story about being in on something and seeing the ugly workings of how things are really done. It's crass, but just like Roxie's fans take the bait on her true crime story, also hard to ignore.
"Chicago" plays through March 15 at San Jose Stage, 490 South First Street in San Jose. For tickets and info, check out https://www.thestage.org.
Comments on Facebook