Gay San Francisco: The Latest
San Francisco, CA
While it's not exactly 'the most wonderful time of the year,' you can still get a bit of holiday cheer with online arts, nightlife and community events.
A new report published by the Washington Post suggests that President-elect Joe Biden may have won the 2020 election because of higher LGBTQ voter turnout.
Israeli actor Tom Mercier is one of the lesser-known actors on HBO's "We Are Who We Are," but he's an actor to watch, if only for his confidence in his full-frontal scenes.
Dolly Parton spoke of her 54-year marriage to Carl Thomas Dean in an interview with Jessie Ware for the "Table Manners" podcast.
The 2020 MSNBC election correspondent and popular crush Steve Kornacki will join Football Night in America, starting this Sunday.
Mr. Man reveals its Top Ten best male cinematic nude scenes of 2020.
MrSkin.com reveals its Top Ten most exciting female film and TV nude scenes of 2020.
This is the time of year when Hollywood's awards-season-industrial complex usually shifts into high gear.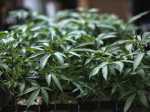 The Democratic-controlled House on Friday approved a bill to decriminalize & tax marijuana at the federal level, reversing what supporters called a failed policy of criminalization of pot use & taking steps to address racial disparities in enforcement.
Luke Evans dispels the rule that Hollywood actors cannot be out and be an A-lister. Named Attitude magazine's "Man of the Year," he opened up in an interview about privacy and being out.
House Speaker Nancy Pelosi gave an optimistic assessment of the prospects for a mid-sized COVID-19 relief bill and a separate $1.4 trillion governmentwide spending bill on Friday.
The White House has shamelessly taken credit for honoring World AIDS Day "in a way that no president has before," according to Press Secretary Kayleigh McEnany.
San Francisco, CA
In the much-needed spirit of buying local, check out and fill your cart with Glitter Worthy's fun array of gifts created with local drag performers, illustrators and photographers.

A removal van was spotted outside the Monument, the exclusive apartment complex in Sydney, Australia in what could be the final chapter in gay male star Billy Santoro's ongoing dispute with management of complex's Horizon tower.
The International LGBTQ+ Travel Association (IGLTA) Foundation is receiving much-needed support this week courtesy of an Orbitz campaign advocating for equality in the travel industry.
Digital experiences are turning our computer screens into portals for all sorts of holiday reunions, group workshops, live entertainment and delightful tours. Here's a rundown of a few faves tilted toward LGBTQ interests.
People buying their own health insurance have even more to think about this year, particularly those post-COVID-19 patients with lingering health concerns, the "long haulers," who join the club of Americans with preexisting conditions.
Hyundai and Kia must pay $137 million in fines and safety improvements because they moved too slowly to recall over 1 million vehicles with engines that can fail.

EDGE reveals some of the best female-owned fashion, beauty and wellness brands of the season — many of which are LGBTQ-owned, too.

Many front-line workers are nervous about hospital preparedness, and many observers are less bullish about the effectiveness of the coronavirus testing and tracing infrastructure.
A couple were arrested at a Hawaii airport after traveling from the U.S. mainland despite knowing they were infected with COVID-19, authorities said.Kauai Police Department via AP
San Francisco, CA
Settle in for autumn's end and December's arrival, as arts, nightlife and community events thaw out.
Saturdays at London's Heaven Nightclub are getting a little happier - at least, the meals are. New COVID rules say bars must serve "substantial meals" with drinks, and McDonald's is partnering with the club.