Gay San Francisco: The Latest
San Francisco, CA
Frameline, the San Francisco Giants and SF Pride present the first-ever Pride Movie Nights June 11 & 12, with an outdoor screening of the new film adaptation of Lin-Manuel Miranda's musical "In the Heights."
A researcher worked with more than 500 trans and gender-nonconforming students to examine which college policies and support services trans students most valued.
On the Ryan Murphy-produced Fox series, "9-1-1: Lone Star," hot gay couple T.K. Strand and Carlos Reyes hook up in a sexy scene, that is, until a fire interrupts their intimate moment.
According to new research, two in every three Americans will end their relationship if their pet doesn't approve.
A British man, who was arrested in 2019 after allegedly writing that LGTBQ people were "simply degenerate" and should be "purged from society," is now claiming to be bisexual himself.
Joshua Bassett told haters on social media to take their negativity elsewhere after "coming out" in an interview in which he called Harry Styles "hot."
LuPone, a two-time Tony Award winner, released a video message to theater fans around the globe, on behalf of the Broadway community.
Ellen DeGeneres will end her Emmy Award-winning daytime talkshow with its 19th season next year.
In the lengthy "Let the Record Show: A Political History of ACT UP New York, 1987-1993," author Sarah Schulman documents and analyzes the ideals, actions, successes, and failures of the people who made up the AIDS Coalition To Unleash Power.
When Oscar-winning director Barry Jenkins was considering adapting Colson Whitehead's Pulitzer Prize-winning novel about the Underground Railroad into a limited series, he kept hearing the same thing: Impossible.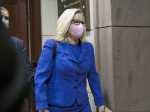 House Republicans ousted Rep. Liz Cheney from her post as the chamber's No. 3 GOP leader, punishing her after she repeatedly rebuked former President Trump for his false claims of election fraud and his role in fomenting the Jan. 6 Capitol attack.
Sc A potentially worrisome variant of the coronavirus detected in India may spread more easily. But the country is behind in doing the kind of testing needed to track it and understand it better.
San Francisco, CA
Though Ed Helms is top billed, its transgender comedian Patti Harrison who walks away with the top acting honors in "Together Together," Nikole Beckwith's charming new comedy/drama about the relationship between a prospective single dad and his surrogate.
British singer Dua Lipa called for a "fair" pay raise for U.K. health workers as she was named a double winner at the Brit Awards in London on Tuesday night.
An exclusive Montana resort wants to turn sewage into snow so that its rich and famous members can ski its slopes in a winter season that's shrinking because of climate change.
Lurking beneath Facebook's decision on whether to continue Donald Trump's suspension from its platform has raised a more complex and consequential question.
Trading bitcoins online has never been easier thanks to online trading platforms.
Home security camera footage shows that the owner of a Tesla got into the driver's seat of the car shortly before a deadly crash in suburban Houston, according to a government report Monday.
Teen Vogue has chosen Versha Sharma, a top editor at NowThis, to replace Alexi McCammond as editor in chief after a swirl of controversy over McCammond's past anti-Asian and homophobic tweets.
U.S. regulators on Monday expanded the use of Pfizer's COVID-19 vaccine to children as young as 12, offering a way to protect the nation's adolescents before they head back to school in the fall and paving the way for them to return to more normal activit
Many in the gay community are also eager to return to Fire Island Pines this summer. With New York State beginning to lift restrictions, Fire Island Pines is announcing some opening dates for Summer 2021.
San Francisco, CA
Feinstein's at the Nikko, San Francisco's premiere nightclub, will once again bring Broadway stars and Bay Area acts to its stage. Performances are set to resume on May 20 with an all-star lineup.

The author of "Still Straight: Sexual Flexibility among White Men in Rural America" investigates why some men who identify as straight have sex with other men.