Gay San Francisco: The Latest
A nationwide eviction moratorium is set to expire Saturday after President Joe Biden and Democrats in Congress worked furiously but ultimately failed to align on a long-shot strategy to prevent millions of Americans from being forced from their homes.
President Donald Trump urged senior Justice Department officials to declare the results of the 2020 election "corrupt" in a December phone call, according to handwritten notes from one of the participants in the conversation.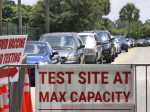 Florida's coronavirus cases jumped 50% this week, the state Health Department reported Friday, continuing a six-week surge that has seen it responsible for 1 in 5 new infections nationally, becoming the outbreak's epicenter.
Millions of people in the U.S. who haven't gotten the COVID-19 vaccine could soon have a new reason to roll up their sleeves: money in their pockets.
The Walt Disney Company has joined other large companies in requiring employees to get vaccinated against COVID-19.
"Better Call Saul" star Bob Odenkirk said Friday that he "had a small heart attack" but will "be back soon."
Keiyan Lonsdale of "The Flash," Sarah Hyland of "Modern Family," and Dylan Sprouse of the recent film, "After We Collided" will all have lead roles in the comedy.
Scientists who studied a big COVID-19 outbreak in Massachusetts concluded that vaccinated people who got so-called breakthrough infections carried about the same amount of the coronavirus as those who did not get the shots.
Broadway theatergoers will need to prove they've been vaccinated for COVID-19 and masks will be required when theaters reopen in the coming weeks, producers announced Friday.
A judge on Friday said he would not kick one of Jussie Smollett's attorneys off the case even though he believes the attorney spoke to two men the actor allegedly hired to help him carry out a staged attack.
Creating a rainbow oasis of diversity and inclusion was, for decades, the role of the gay and lesbian bar. But what about those in recovery, or who just aren't attracted to the bar scene? Alternatives do exist.
San Francisco, CA
Far from romantic, the idea of an emotionally unstable man chasing after a teenage crush from 12 years ago sets off every red flag imaginable.
While speaking about the "Drag Race" process of filiming multiple endings to conceal the winner, Rio confirmed on Joseph Sheperd's podcast that an ending resulting in a tie was filmed.
For the LGBTQ community, safety and security have never been more critical, but not all smart security systems are created equal. Here's what you should be looking for to protect your home and property.
A Moscow court ordered Google to pay a fine for refusing to store the personal data of Russian users on servers in Russia — part of a longstanding government effort to clamp down on online activity.
The tattered myth that gays are generally better off than their heterosexual peers took another hit with a new study that reconfirms gay and bisexual men earn less than straight men do.
The back-and-forth in a closely divided Congress over EV funding reflects a tricky balance for the auto industry and the Biden administration.
The the Roarin' 20s have begun! New York City's queer hub — Hell's Kitchen — bursts back to life with a slate of new LGBTQ bar openings that promises to revitalize the neighborhood for locals and tourists alike.
President Joe Biden on Thursday announced sweeping new pandemic requirements aimed at boosting vaccination rates for millions of federal workers and contractors.
Nearly one in five flight attendants say they have witnessed physical incidents involving passengers this year, and their union is calling for criminal prosecution of people who act up on planes.
San Francisco, CA
As more venues re-open, more precautions become standard. Mask up, get your shots, and enjoy arts and nightlife events.

The idea that sexual desire might be understood as mere preference — like a favorite ice cream flavor — is reductive. "Just a preference" is a familiar and reflexive shield for what experts call racialized sexual discrimination.