Gay San Francisco: The Latest
Caitlyn Jenner declared her support for comedian Dave Chappelle, whose Netflix special "The Closer" has riled the LGBTQ+ community,
Boston Theater Company artistic director Joey Frangieh wants you to run on Sunday for 'The Gay Agenda'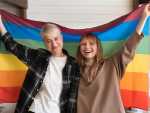 The Paso Robles Joint Unified School District has banned large Pride flags in its classrooms after a group of students posted a TikTok showing themselves attempting to flush a flag and defecating on it.
Billy Porter has signed on to direct the movie version of Lev Rosen's YA novel "Camp," about first love at a summer camp for LGBTQ+ teens.
A new survey reveals in which country men have the most sexual partners — guess who's on top?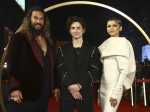 "Dune" isn't done.
Netflix employees who walked out Wednesday in protest of Dave Chappelle's special and its anti-transgender comments were joined by allies who chanted "Trans lives matter."
The Chicago Blackhawks mishandled allegations that an assistant coach sexually assaulted a player during the team's Stanley Cup run in 2010, according to an investigation.
The United States has issued its first passport with an "X" gender designation — a milestone in the recognition of the rights of people who don't identify as male or female.
Josh Cavallo recorded the statement that he'd been too concerned to talk about publicly for a very long time.
The U.S. moved a step closer to expanding COVID-19 vaccinations as government advisers endorsed kid-size doses of Pfizer's shots for 5- to 11-year-olds.
San Francisco, CA
"Halloween costumes are absolutely a form of drag," says Rosé, who performs with seven other "RuPaul'sDrag Race" vets in "Night of the Living Drag," a pumpkin month performance tour that makes its San Francisco stop at the Warfield Theater Oct. 25.
The latest entry in the Marvel Cinematic Universe pushes the boundaries of expectations to epic proportions, introducing the Eternals — but exactly whose side are these super beings on?
A federal judge has rejected a bid by pilots to block Southwest Airlines from imposing a vaccine mandate.
What are Bitcoin bonuses and how do they work in the world of online casinos?
Here are some of the government funding options that are still available to help small businesses in the time of COVID — and how to get them.
Toyota said Monday it is testing hydrogen combustion engines in race cars as it works toward using the technology in commercial products.
A hike in the cost of wheat is alarming French households who fear a possible rise in the price of the prized baguette, seen by many as a barometer of the country's economic health.
A national trend linked to staffing deficits are cramping services in the public mental health system.
Children under 18 and people from dozens of countries with a shortage of vaccines will be exempt from new rules requiring most travelers to the United States be vaccinated against COVID-19.
San Francisco, CA
Theater, music, dance, films, drag, comedy, and more await you all over the Bay Area, plus a few pre-Halloween fun scares.
Just because you are in the middle of staying healthy and safe during the pandemic does not mean you have to forget about your sex life; you are your safest sex partner, and this toy can help you become your best partner, too.