Gay San Francisco: The Latest
San Francisco, CA
This week, we're showcasing two admirable men in very different community subcultures, because we can. Filmmaker James Broughton and leatherman Andy Cross were featured in our June 13, 2013 issue, and both share a connection to gay erotic liberation.
Due to the impending snow storm, Seth Sikes' Boston debut has been postponed until February 26 at 8 p.m. at Club Cafe.
Lily James plays Pamela Anderson and Sebastian Stan plays Tommy Lee in the new Hulu series "Pam & Tammy."
Scottish ice dancer Lewis Gibson talked about coming out, being married, and representing Great Britain at next month's Olympics.
It's been a peach of a past year for Justin Bieber, who leads the iHeartRadio Music Awards with nine nominations thanks to his two major collaborative hits of 2021, "Peaches" with Daniel Caesar and Giveon, and "Stay" with The Kid LAROI.
Lea DeLaria made it clear on social media: she is not Che Diaz, the non-binary character played by Sara Ramirez on "And Just Like That."
Country star Kacey Musgraves serenaded the crowd at Philadelphia gay bar Tavern on Camac with a cover of Fleetwood Mac's "Dreams" that was caught on video.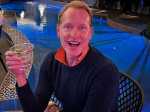 Host Julie Chen Moonves took to social media Wednesday evening to announce the cast of the third installment of CBS's celebrity edition of its long-running reality show "Big Brother."
Australian soccer team Melbourne Victory have been fined $5,000 for homophobic slurs hurled from the stands at Josh Cavallo, who plays with Adelaide United.
A Boston hospital is defending itself after a man's family claimed he was denied a new heart for refusing to be vaccinated against COVID-19.
A South Dakota House committee on Wednesday approved a proposal from Republican Gov. Kristi Noem to ban transgender women and girls from competing in school sports leagues that match their gender identity.
Democrats stung by a series of election year failures to deliver legislative wins for their most loyal voters hope they'll be buoyed by the prospect that President Joe Biden will name the first Black woman to serve on the Supreme Court.
San Francisco, CA
Dancer Joshua Thake's life journey has brought him from rural Massachusetts to some of the world's most revered stages as a member of Les Ballets Trockadero de Monte Carlo, the celebrated all-male drag ballet troupe.
One word made all the difference Wednesday on "Jeopardy!" Champion Amy Schneider's dazzling streak on the quiz show is over, snapped by a Chicago librarian after 40 consecutive wins and nearly $1.4 million in prize money.
A cruise ship that was supposed to dock in Miami has instead sailed to the Bahamas, after a U.S. judge granted an order to seize the vessel as part of a lawsuit.
Moderna has begun testing an omicron-specific COVID-19 booster in healthy adults.

For the first time in half a year, families on Friday are going without a monthly deposit from the child tax credit.
Luxury automaker Bentley said Wednesday it is pouring billions into upgrading manufacturing to accelerate its electric vehicle development plan, joining other auto brands shifting away from gasoline engines.
More from Paris Fashion Week, including Valentino and Viktor & Rolf among other couture collections.
Many Americans agree that they're going to "be stuck with it forever" — or, at the least, for a long time
New Malaysian carrier, SKS Airways, took to the skies Tuesday with short-haul flights to holiday island resorts as domestic travel rebounds.
San Francisco, CA
This is your arts and nightlife captain; please stand by as we navigate through abrupt closings, postponements — and even a few openings— around the Bay Area this week.
Mad Angel Entertainment presented the 49th celebration of the Miss Gay America pageantry at the Robinson Theatre in Little Rock, Arkansas. Congratulations to Dextaci who was crowned Miss Gay America 2022.