One seemingly indestructible HIV-like strain has earned the nickname "death star" due to the strain's reputation for killing off hopes for potential vaccines and immunotherapies. A team at the Scripps Research reports beating that challenge.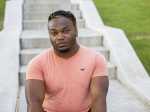 Roughly 20 states have laws that make it a crime for people with HIV to have sex without first informing their partner of their infection.
How much do teachers and peers need to know about students' HIV-positive status? And what is the best way of managing their particular health needs at preschool level?
Michael Johnson, the former wrestler from Lindenwood University who was convicted of transmitting HIV, was recently released from Missouri State Prison and is speaking out about his story with HIV. He hopes to advocate for updated exposure laws.
A former college wrestler who was convicted in 2013 under laws criminalizing HIV-positive status is now free on parole after having served five years out of what would originally have been a shocking 30-year sentence.
In Haiti, about 150,000 people out of a population of 11 million are believed to be living with the HIV virus. Of those, only 55% have access to antiretroviral medications. What explains this lack of access to care?
Scientists using a gene editing technology called CRISPR have succeeded in eradicating HIV from laboratory mice, reports say. A possible cure remains distant - but it may now be closer than before.
Health officials are warning attendees at a recent wrestling event in southern Indiana to get tested for HIV and hepatitis C due to possible exposure to blood-borne pathogens.
Every year, National HIV Testing Day is observed on June 27 to raise awareness of the importance of HIV testing and diagnosis. An estimated 1.1 million people in the United States are living with HIV, and 1 in 7 are unaware of of their diagnosis.
According to the CDC recommendations, everyone should be tested at least once between the ages of 13 and 64 as part of routine health care.