Video of Suspects in Group Attack on D.C. Trans Woman Released by Police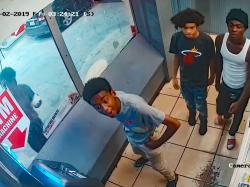 Authorities in Washington, D.C. have released video showing several suspects in the vicious beating and robbery of a transwoman, multiple news sources report.

The August 2 attack reportedly involved three male assailants who beat and robbed Alicia Wood just after she had left work at the Eagle, a gay bar in D.C. The group of young men followed Woods, hurling anti-trans epithets at her as she retreated to a gas staton convenience store, looking for refuge.

But, Woods told the media, when she got to the store and asked for help, the attendant provided none at all. Then, news reports say, the assailants entered the store, continued to berate Woods, attacked her, and stole her phone, along with $300.

D.C. police released surveillance video footage that clearly shows three of the young men. After showing the trio enter the store and edge toward the unseen Woods, appearing to shout at her, the video focuses in on still images of each of the three, labeling them them "Person of Interest 1" (a young man wearing a blue T-shirt), "Person of Interest 2" (a young man wearing a black T-shirt with a white and yellow logo), and "Person of Interest 3," a young man wearing a white sleeveless T-shirt and a knit hat. A fourth "Person of Interest" was also specified — a young man seen peering into the store through the glass. He appears to be wearing a gray T-shirt.

In early media accounts, Woods had said that she was followed and harassed by a group of seven men.

The video ends with a phone number — (202)-727-9099 — and a text number — 50411 — where anyone with information may contact the authorities.

Watch the surveillance video footage below.



Kilian Melloy serves as EDGE Media Network's Assistant Arts Editor. He also reviews theater for WBUR. His professional memberships include the National Lesbian & Gay Journalists Association, the Boston Online Film Critics Association, The Gay and Lesbian Entertainment Critics Association, and the Boston Theater Critics Association's Elliot Norton Awards Committee.
Comments on Facebook