1 thru 10 of 1239 Stories
Faith-based adoption agencies that are paid by the state of Michigan will no longer be able to turn away LGBT couples or individuals because of religious objection under a legal settlement announced Friday.
A woman who operated a popular YouTube channel featuring kids is facing allegations she used pepper spray to discipline her seven adopted children, and locked them for days in a closet.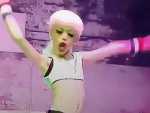 Original Drag Kid Desmond is Amazing is only 11 years old, but that has hardly shielded him from the online taunts and slurs of right-wing trolls who sandwich expressions of concern for his well-being between frequent attacks on him and his family.
With dreams of UCLA for her daughter, single mother Donna Balancia chose a high-rent apartment to get her into Beverly Hills High School, which she hoped would give her the best shot at the college of her choice.
The number of foreign children adopted by U.S. parents plunged nearly 14 percent last year, extending a decline that's now continued for 14 years, according to State Department figures released Thursday.
Alex Guarnaschelli might be a revered judge on TV's "Chopped," one of the few female iron chefs and the author of two best-selling cookbooks, but in her 11-year-old daughter's eyes Chef Gordon Ramsay is still the ultimate authority on food.
After a backlash, actor Terry Crews is apologizing for tweeting that children of same-sex parents are "severely malnourished" for love.
A gay man claims he was discriminated against at the Mexican Consulate in San Jose when a clerk refused to change his passport to reflect his married name.
The world of Star Wars is coming from a galaxy far, far away to become the largest single-themed land created in a Disney park.
A lesbian couple in Hull, England, was targeted with a hate-filled anonymous letter telling them that their family was "immoral" and "wrong," and urging them to move elsewhere. But their neighbors quickly proved them to be wanted right where they are.
1 thru 10 of 1239 Stories