UK Bus Driver Refuses to Drive Bus that 'Promotes Homosexuality'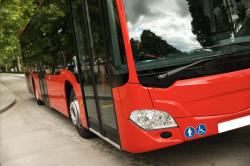 Add this tale to the annals of those who refuse to do their jobs because, gays.
A bus driver in Norwich, England kept passengers waiting because he refused to drive the bus assigned to him — a bus that featured its route number in rainbow colors. The driver told passengers they had to wait to be taken their their destinations because he thought the bus "promoted homosexuality," reports UK newspaper The Independent.
Passengers were forced to bide their time until a new bus arrived, at which point the driver allowed them to board and began to drive the route.
One passenger, 19-year-old Rebecca Sears, told the media that she and other passengers "thought he was joking" when he announced to them that they weren't going anywhere until he had a different bus to drive.
Sears quoted the driver — who, not named but, was described as in his 50s — as saying, "I am not driving this bus because it promotes homosexuality."
The driver's refusal did not, however, promote punctuality for those who had to endure his skittishness.
"I thought it was all just quite bad, it made us 10 minutes late," Sears said, adding. "which isn't bad when it's more a legit reason, but for that sort of reason it is."
Local newspaper the Norwich Evening News offered more extensive comments from Ms. Sears, who noted that the driver was "stopping people from getting home for such a ridiculous reason."
"We are not asking him to join in with Pride," Sears added; it's just about acceptance.
"I think everyone is entitled to their opinion, but if it stops you from doing your job, then it is ridiculous," Sears went on to say.
The company that operates the bus in question, Go East Anglia, said through a spokesperson, "We particularly want all customers of whatever background or sexual orientation to feel comfortable on our services."
The company said that driver has been suspended while the incident is looked into.
Cases of anti-LGBTQ individuals refusing to do their jobs have been rife, including taxi drivers, Uber drivers, and even public employees neglecting their professional responsibilities because they do not wish to serve LGBTQ people or "promote homosexuality" or rights such as marriage. In the United States, Kim Davis, a clerk for Rowan County in the state of Kentucky refused to carry out some of her job duties when, in the wake of the 2015 Supreme Court finding that same-sex couples have a right to full marriage equality, she refused to issue marriage licenses, first to gay and lesbian couples and then to all couples. Davis also refused to allow clerks under her to issue the licenses, justifying her refusal by saying she was acting out of religious beliefs. Davis became an icon to the anti-LGBTQ hard right.
More recently, the Trump administration has moved toward creating a suite of special rights that would apply to individuals and businesses — including medical personnel and public employees — that justify discrimination against LGBTQ people by citing "deeply held" religious or personal convictions. Such newly enshrined rights would sidestep existing anti-discrimination laws and have been decried by critics as a "license to discriminate."
Kilian Melloy serves as EDGE Media Network's Assistant Arts Editor. He also reviews theater for WBUR. His professional memberships include the National Lesbian & Gay Journalists Association, the Boston Online Film Critics Association, The Gay and Lesbian Entertainment Critics Association, and the Boston Theater Critics Association's Elliot Norton Awards Committee.
Comments on Facebook