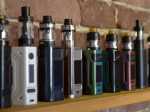 San Francisco became the first major U.S. city to ban the sale of electronic cigarettes after supervisors gave the measure its second and final vote Tuesday.
San Francisco, CA
A new exhibition opened at the GLBT Historical Society Museum on 18th Street, 'The Mayor of Folsom Street: The Life and Legacy of Alan Selby,' to honor his memory. A large crowd was on hand to welcome this exhibition.
Activists who believe that New York City's massive gay pride parade has become too corporate are planning an alternative "Queer Liberation March" on the same day.
San Francisco, CA
The Sisters of Perpetual Indulgence celebrated Easter Sunday and their 40th anniversary on April 21 by returning to Dolores Park for a well-attended picnic-filled party of thousands.
San Francisco, CA
This is a special edition of the Bay Area Reporter's cannabis column and celebrates all things 4/20.
San Francisco, CA
The black and white photo, at first glance, could be of any sharply dressed couple. The woman is adorned in her Sunday best and the gentleman sports a pinstripe suit.
San Francisco, CA
It's back. To commemorate their 40th anniversary, the Sisters of Perpetual Indulgence's annual Easter in the Park is returning to Mission Dolores Park near the Castro after being held at Golden Gate Park for the last five years.
San Francisco, CA
Gay Olympic medalist Adam Rippon and award-winning actress and ally Kristin Chenoweth will receive awards at the San Francisco Gay Men's Chorus' Crescendo benefit Saturday, April 27.
San Francisco, CA
"We are everywhere!" may be a queer community rallying cry, but once again, Bestie voters don't seem to eat anywhere but the Castro and the Mission.
Indochino, the global leader in custom apparel, announced a partnership today with the Boston Red Sox in advance of its second Boston location opening in the bustling Seaport neighborhood.